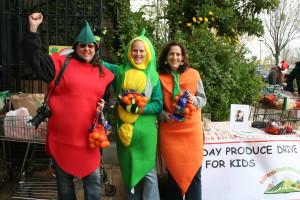 Food Literacy Center is Hiring!
Job Posting: Community Relations Officer, Food Literacy Center
About Food Literacy Center: Food Literacy Center came to life in July 2011 to fill a critical gap: helping individuals improve their knowledge, attitude, and behavior towards real food. We teach food literacy education to 2,400 low-income K-6th graders annually, teaching them to cook, about nutrition and where their food comes from. We work in schools and libraries to accomplish this work.
Our mission is to create change today for a healthy, sustainable tomorrow through community food education. Founding Executive Director, Amber Stott, is joined by a program coordinator, community members who make up the center's board, volunteer committees, and support system. As a growing team, they've combined their creative ideas, expertise, and energy around food, health, and social change to improve the community.
Teaching children with our curriculum Your Sandwich Can Save the World! is our primary objective. By educating through local nonprofits and schools, we help kids develop healthy food habits while they are young, creating healthy lifestyles that will last a lifetime.
Our fund development goal for 2014 is $250,000 with plans to double this again in 2015. We have 100% board and staff giving.
About the Position: Food Literacy Center is in a period of high growth and expansion throughout the Sacramento region. We're looking for a dynamic change-maker ready to roll up their sleeves, throw on a giant vegetable costume, and inspire the community to rally around our cause. The Community Relations Officer will build relationships with funders, bloggers, businesses and individuals to help us grow our budget and presence in media and online. This position will support the fund development and marketing efforts of the board and executive director.
Core Competencies:
Creative & strategic: The candidate will analyze our current status in fund development, marketing and PR and be able to develop and implement fresh, innovative ways to achieve measurable results.
Interpersonal skills: The candidate has excellent communication skills, both written and verbal, and can interface with key stakeholders in a positive way. Is a strong leader and critical thinker.
Entrepreneurial attitude: A "go-getter," the candidate anticipates challenges and can foresee outcomes. The candidate doesn't watch the clock and is always ready to push our campaigns to the next level.
Results-Focused: The candidate knows how to raise money and earn media consistently.
Fearless: Willing to make cold calls, ask contacts for funds and favors, and inspire media to tell our story.
Flexible: The candidate "goes with the flow" and can change track regularly according to the needs of the day.
Fun: The candidate is friendly, outgoing, and has a sense of good humor. The candidate never forgets that the objective is to make learning about food FUN!
Attention to Detail: The candidate lives up to the high standard the community expects from our nonprofit, showing attention to detail.
Mission-Driven & Genuine: The candidate understands that this is a start-up, grassroots nonprofit and is willing to go the extra mile to meet the needs of the mission, always with an eye on the reason we're here: to teach food literacy to kids.
Key Responsibilities:
Event planning in all forms, including annual 10-day Sacramento Food Film Festival, Food Literacy Month, and smaller outreach events. Manages & trains event volunteers.
Social media in all forms, including website maintenance, Facebook and Twitter, email newsletters, and in-person relationship development with key social media leaders.
Fundraising in all forms, including direct mail, online, major giving, event sponsorships, etc.
Grant writing and reporting.
Writing, including marketing materials, solicitations, press kits, website content, etc.
Public relations annual planning and utilizing volunteers to achieve outcomes.
Community outreach, including program tours, presentations, etc.
Managing donor database.
Managing annual fund development and marketing strategies, including scheduling for executive director, overseeing data entry, and other tracking.
Qualifications:
Minimum 3 years' experience in nonprofit fund development, public relations or related field.
Proven track record of funds raised and media earned.
Experience with budgeting.
Experience working with volunteers and facilitating committee meetings.
Experience living/working in Sacramento, California and history of long-term local relationships.
Bachelor's degree or Master's degree. Preference to public relations, event planning, nonprofit fund development.
Basic cooking skills. (Home cooking is OK!)
Understanding or familiarity with local food, food systems and nutrition.
Passion for our mission.
Candidate must pass a Department of Justice background check and have a negative TB test.
This position requires:
Some nights and weekends. A flexible schedule is required.
Ability to lift 40 lbs.
Reliable transportation and California drivers' license.
Vegetable costume as occasional work attire.
All employees must successfully complete Food Literacy Academy certification.
The position is exempt with benefits after 30-day probationary period. There is a generous holiday and PTO package and healthcare stipend. We encourage applicants of a diverse background to apply.
Related Links