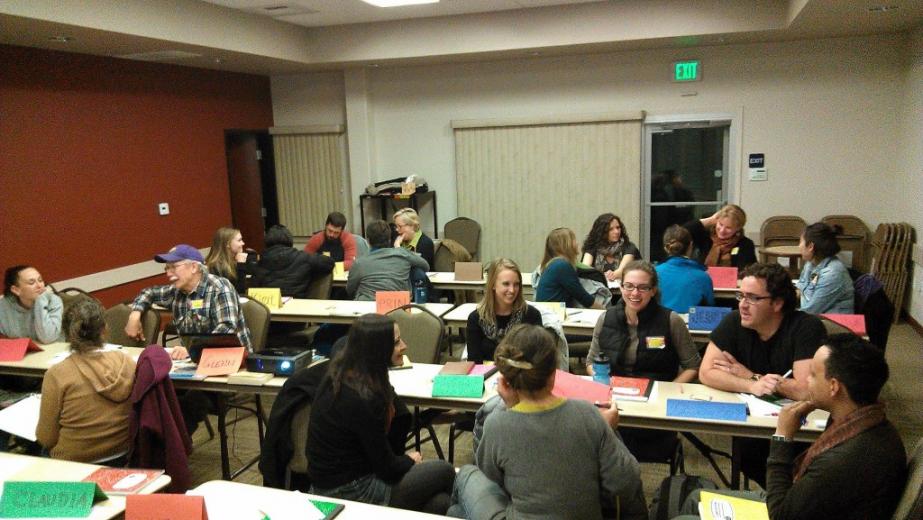 Food Literacy Academy Inaugural Class Graduates
In the first week of February, we welcomed our inaugural Food Literacy Academy class. Twenty-three bright minds from the Sacramento region, and stretching as far away as Coloma and Murphys, took on the 10-week challenge to learn how to teach food literacy in their communities.
These 23 individuals may work in different fields but they all have one thing in common – their passion for teaching kids how our choices of food affect our bodies, our communities, and the environment at large.
The past 10 weeks were chock full of discussions, presentations, readings, and yes, even homework! Amber Stott and various guest speakers helped our Academy students learn how to write curriculum, develop healthy recipes, and teaching cooking without a kitchen. They also learned nutrition facts, how food affects the environment, and the impact of food deserts and eating locally.
During the last two weeks, our Academy students have been presenting their own activities, and have begun certification testing by teaching the center's curriculum to our K-5th grade students to a panel of expert after school teachers. We have seen impressive presentations from a fully illustrated recipe guidebook to a hands-on seed planting activity from a local farmer. In the following weeks, our inaugural class will graduate the Academy to become certified Food Literacy Advocates!
As they embark on their 100 hours of volunteer food literacy teaching in their communities, we look forward to hearing their stories and encounters with kids who are eager to learn.
We are incredibly proud of their creativity, passion, curiosity, and aptitude. They have dedicated their time and energy, on top of working and studying in their regular hours, to join us on this incredible food literacy journey.
Related Links