Food Literacy Academy Graduation
Our Food Literacy Academy graduation is coming up! We are on our third cohort, consisting of nine trainees. Thus far they have completed their nine week training covering nutrition, food systems, classroom management, food safety, and more.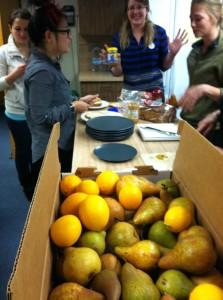 The final stage is earning certificates. The trainees will have firsthand experience in leading one of our cooking lessons. Amber Stott and after school teachers will be evaluating the candidates' performance. If they pass the evaluation, the trainees will earn certificates allowing them to be food literacy educators in the community.
This cohort consists of a local food and agriculture freelance writer, a Soil Born Farms staffer, a local immigration expert, and more. Good luck to all trainees!
If the Food Literacy Academy is something you wish to participate in, we would love to consider you for our fourth cohort. Subscribe to our newsletter to get updates on when we take applications.
Related Links