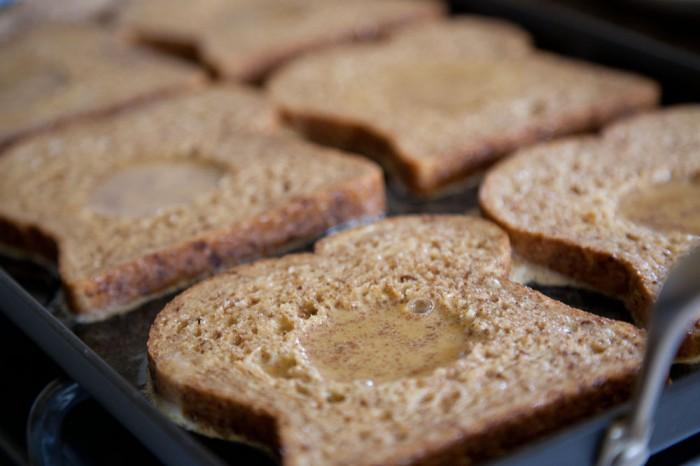 Egg in the Nest: French Toast in a Bread Hole Recipe
Here's a fun, unique way of presenting an old favorite — French toast! Our board member Jillena Hernandez created this easy and delectable recipe guaranteed to perk up your mornings.
Egg in the Nest: French Toast in a Bread Hole Recipe
4 servings
8 pieces of whole wheat bread
6 free range organic eggs or egg replacement
1/4 tbls cinnamon
1/4 tsp all spice
1 tbls Earth Balance margarine
1 tbls oil
Garnished above with US grade B maple syrup and my new favorite, dragon fruit.
Cut a hole in the center of each slice of bread where you will "nest" the egg using a cookie cutter or knife. Set the "holes" aside to toast later.
Beat the eggs/egg replacement and spices together in a wide bowl. Heat 1/2 of the butter and 1/2 of the oil on a flat griddle over medium heat for each round of cooking. Spread the mixture evenly across the griddle. Dip the bread into the egg mixture, coating both sides. Pull it out of the mixture and let excess drip briefly.
Place prepped bread on the griddle edge to edge to maximize space. Ladle additional egg mixture into the center of the bread to fill the whole. Slip "holes" into extra space on griddle making sure some butter coats them.
Let the bread cook for a few minutes until the center egg has very little raw egg left floating in the nest. Flip and cook other side to desired wellness. This version came out smelling like Christmas morning and absolutely lovely.
For a simpler over easy version, make the hole in the slice of bread and crack a single egg into the hole without scrambling so that the yolk nests in the hole. Flip after the egg is only half cooked. Toast the hole beside your egg in the nest until it has browned to perfection. For a savory version, sprinkle with parmesan and serve with roasted tomato slices.
Recipe and photo by Jillena Hernandez.
Reprinted with permission from Eat Well, Live Free
Related Links