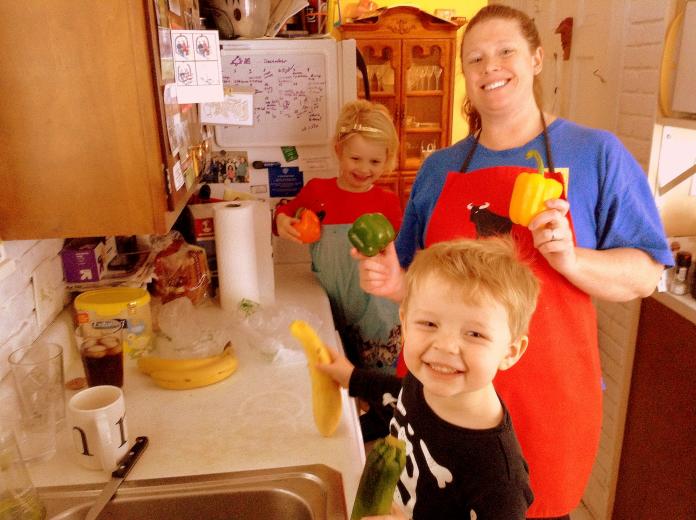 Cooking with Little Kids Inspires Mom
Jordan Wienke used to hate cooking because she felt that recipes were too constricting and ingredients too exotic. However, when she had children and became a stay-at-home mom, she realized that she needed to pay more attention to healthy food for her family.
Jordan's cousin happens to be our founder, Amber Stott. A few years ago, Jordan read her Awake at the Whisk blog about trying various fruits and vegetables and that sparked her interest in cooking with her family. Dusting off cookbooks she dug out from her basement, Jordan experimented with various recipes with her three kids, daughter Ryann, now 4 ½, and sons James, now 2 ½ and John, one year old.
"I started putting a folding chair in the kitchen and having Ryann, then three years old, pour the olive oil and then sauté the veggies I had cut up. I experimented with a dash of salt or pepper or curry whatever was around," Jordan said. "I would hold the spices up to Ryann's and James' noses and tell them what spice it was."
Ryann and James are able to make easy snacks by themselves as Jordan makes fruits and milk accessible to them in the fridge. Two or three times a week, the family will cook a big dinner together. The older kids will help bring out pots and pans, and Jordan will create vegetable and chicken stir fry or noodles with sundried tomatoes and feta with the help of her kids.
"It's not an easy process. It takes a lot of patience and time, my kids are pretty young, and making dinner together can take up to an hour and a half with all those small cooks, but it totally pays off," said Jordan. "All three of them are eating champs and will try anything from eggplant to sushi. What started as my laziness has turned my children into independent foodies!"
In addition to cooking together, the Wienke family shops at the farmers' market in the summer. They experiment with different produce by having the kids pick them out. Jordan never influences her kids' decisions and lets them pick anything they want to try. They are always willing to try it and 90% of the time, they will like it and get it again.
"Patience is key. They have picked some crazy things — a whole pineapple, mangos, butternut squash, but we've figured it out together, and they always try it, no matter what, because they picked it out," said Jordan.
In addition to picking out produce, Jordan has now tasked Ryann with making her own purchases with a few dollars.
"It's a learning experience on so many levels; community awareness, colors, numbers, science of cooking, experimenting and employing touch, sight, smell and sound," Jordan said. "And it doesn't hurt that my kids are now great eaters!"
Jordan has sage advice for busy working parents who do not have the time to cook with their kids as often as they like. She advises them to go to the farmers' market with their kids on a Saturday or Sunday and tell their kids they can pick one fruit or vegetable, as long as they will try it.
"Maybe they pick an apple to start with, maybe a star fruit, but the point is, they get to pick whatever they want and take their time doing it. Then go home right away and make it," Jordan said. "If they don't like it, don't push it."
She also suggests that parents make Sunday night a special family dinner night when the entire family cooks a meal together. On regular busy nights, parents can still prepare home-cooked meals in mere minutes. They can throw together a quick dinner of in-season fruits and vegetables, cheese and a loaf of bread. It is less stressful being home, and the food is better and healthier!
"It will take you less than 5 minutes, I know, I've timed it! There is no rule that says you have to provide a hot cooked meal for dinner," Jordan said. "Do it once a week. I promise you'll end up doing it more and more. Plus, your kids will like the extra time at home, and the freedom to get up and move around in a familiar place."
Jordan also learned from her pediatrician that her responsibility as a parent is to provide healthy food for her kids, and her kids' responsibility is to eat if they're hungry. She does not force her children to eat if they're not hungry and sometimes they will snack on fruits and toast all day. It makes mealtimes less stressful for her as a parent.
"We don't negotiate food. You never hear 'if you'll just eat two more bites.' If you're hungry you eat; if not, don't. And my kids are great eaters, personally I think it's because they have a lot of control over their food choices," said Jordan.
Even though she's a busy mom with three small children, Jordan makes it a priority to ensure her family eats healthy meals. She's definitely an inspiration to us at California Food Literacy Center!
Related Links