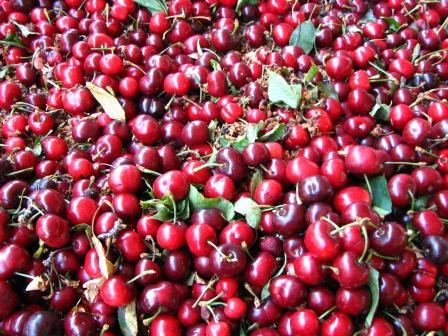 With a Cherry on Top!
What do English and French colonists, a Presbyterian minister, a Quaker nurseryman, Spanish missionaries, and a Chinese man have in common? They all played a large part in bringing a beloved fruit into existence in the United States – the cherry.
Whether you like it fresh, in a pie, or on top of a sundae, cherries are certainly an American classic. However, sweet cherries originated in the area between the Black and Caspian seas of Asia Minor, and the seeds were brought over to Europe by birds. The Greeks were possibly the first to cultivate the fruit, followed by the Romans. Early English colonists brought the fruit to America in the 1629. Later, French colonists from Normandy brought pits to plant in the Great Lakes area, and it was common to see cherry trees in the gardens of early French settlers in Detroit, Vincennes and other Midwestern areas.
In 1852, Peter Dougherty, a Presbyterian minister, planted cherry trees in Michigan and to everyone's surprise, the trees flourished in the area. Other farmers and Native Americans in the area soon started planting their own trees, and thus began the commercial cultivation of cherries in America. Cherry orchards also thrived in the Northwestern part of the country. In 1847, Quaker nurseryman Henderson Lewelling transported 700 grafted cherry fruit trees in an ox cart from Iowa to western Oregon. Lewelling Farms became renowned for its sweet cherries. The most famous cherry of this variety is the Bing cherry, named after one of Lewelling's Chinese horticulturalist, Ah Bing, who helped Henderson's brother, Seth breed the new variety.
Spanish missionaries brought cherries to California and the state became an established cherry production region in the 1800s. The mild climate and nutrient-rich soil in northern California is perfect for growing Bing cherries. Today, there are around 600 Bing cherry growers in California, ranging from large production facilities to small farms.
Raw cherries are incredibly nutritious for you! They are an excellent source of vitamin C, potassium and fiber. According to livestrong.com, studies have linked cherries to help sufferers of gout and arthritis, and may have preventive effects when it comes to certain cancers, diabetes and heart disease.
Related Links