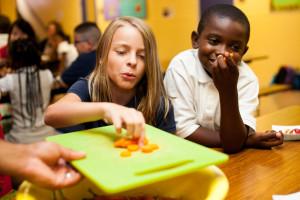 Cayley's Story
Cayley is a food adventurer. Cayley is a 5th grader at Capitol Heights Academy, a public charter school in Oak Park and has been in Food Literacy Center's after school program for 2 years. She's tried a variety of fruits and vegetables in food literacy class and learned she has an appetite for spicy and exotic foods.
One of Cayley's favorite food is nachos. "I like nachos with cheese and guacamole and jalapenos" she says, "I just tried jalapenos, they're so good!"
Our curriculum covers topics including: fruit and vegetable appreciation, cooking, nutrition and where food comes from. Each lesson serves the greater goal of food literacy to improve knowledge, attitude and behavior towards healthy foods. After each lesson, students are offered a produce of the day to taste and a fun fact about each fruit or vegetable. Recently we've given out pomegranate, bok choy and fennel, which students were eager to try.
Many students haven't heard of these foods before so tasting them helps builds healthier and more adventurous eating habits. And this after school snack can be the last time a child eats that day. Cayley has learned to taste new foods before deciding if she likes them. "When I look at food, maybe it's green and it looks nasty, but I try it anyway. Sometimes I like it, sometimes I don't," she explains.
After 1 month of food literacy education 92% of students said that healthy food tastes good. Exposing children to seasonal fruits and vegetables gives them the opportunity to experience new foods at the peak of freshness and flavor. When fruits and vegetables taste good kids are more likely to eat them!
A few months ago, our students got the chance to try pineapple guavas when Harvest Sacramento gleaned some especially for Food Literacy Center! Cayley now counts pineapple guavas among her favorite fruits. "Some people said the skins are sour," she recalls "but I don't think so."
While her palette is eclectic, Cayley's favorite fruit is more traditional. "My favorite are pink lady apples because they're the sweetest apples on earth," she exclaims "and they're pink!"
Article by Aimee Darville
Photo by Marita Madeloni; Madeloni Photography
Related Links