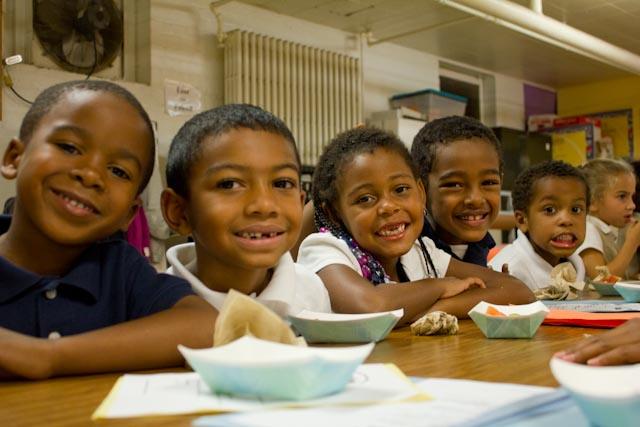 California Food Literacy Center Returns to Capitol Heights Academy
The start of the new school year saw our return to Capitol Heights Academy for our "Your Sandwich Can Save the World!" after-school program. We are back to teach 100 kindergarten to 5th graders all about food literacy – what food is good for their bodies, the environment, and the community!
With enthusiastic smiles and curious minds, new faces and familiar ones greet our founder Amber and volunteer teachers Taylor Jaspar and Susan Vitulli. On the first day of class, they were so excited to see "Miss Amber" as she originally taught them the curriculum last school year. We are very fortunate to have dedicated volunteers! Taylor joined us in the middle of the last school year and is helping us again this year. Susan, who has a degree in health communications, is joining us for the first time as a new volunteer teacher. Welcome Susan!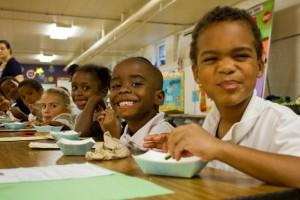 In the first class of the school year, Amber asked the returning kids what they remembered from last year. The 2nd and 3rd graders remembered "red light/green light" foods. The 4th and 5th graders remembered that trans fats are worse than any other types of fat, what fiber and carbohydrates are, and that there are two types of farms: organic and conventional. We are incredibly proud of our little Food Literacy Superheroes for remembering so much of their lessons!
In the next few weeks of classes, we split the kids into smaller groups to allow for more hands-on learning and time to answer individual questions. Taylor came up with a fun game for the kids to identify the produce! They each drew a picture of their favorite fruit or vegetable, and then one by one, they stood in front of the class and gave clues to what they had drawn. The rest of the kids had to guess what the produce is. It was an excellent way for them to remember what they have learned such as "This is a root. It's a vegetable. It's orange."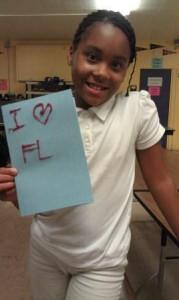 A few weeks ago, we conducted our first cooking class for this school year. The kids got to learn how to follow a recipe to make a minted cucumber watermelon salad. A special thanks to afterschool director Emilie Beecroft and Capitol Heights Academy for buying the groceries! The kids thoroughly enjoyed this lesson and gobbled up their salads, with many of them asking for second helpings! It was the first time that many of the kids had tasted mint, and several kids had mentioned in the beginning of class that they didn't like cucumber but devoured their salads just the same! We also left a big bowl of salad for the teachers who enjoyed it as much as the kids did!
The kids turned their recipes into greeting cards when the cooking lesson was over. We hope that they brought the recipes home for their parents to try. They wrote the sweetest messages in the cards such as: "Have a nice meal!" and "I heart FL" (for "food literacy"). One of the kids told Miss Beecroft and his teachers that his favorite part of the entire day was making and eating the salad during the food literacy lesson!
In these few weeks, kids also got to eat and learn about different produce. Some of the kids had never eaten plums or pears before. This reiterates to us how important food literacy is! When kids learn about a new fruit or vegetable, they are more likely to eat it.
Thanks to the teachers and program administrators at Capitol Heights Academy and to our volunteers, we had a fantastic start to the school year!
Related Links