Book Review: The Third Plate by Dan Barber
The Third Plate: Field Notes on the Future of Food by Dan Barber
Book Review by Lori Easterwood, Sacramento Public Library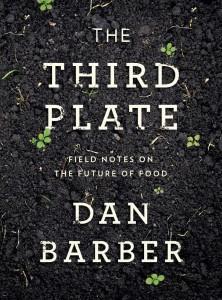 Dan Barber is the multiple James Beard Award-winning chef and co-owner of Blue Hill restaurants in Manhattan and at the Stone Barns Center for Food and Agriculture in upstate New York. Until recently, Barber's restaurants were synonymous with the farm-to-table movement, but in The Third Plate, the author-chef argues for an entirely new cuisine of sustainability. Barber calls for a holistic approach to agriculture in which the chef is as responsible as the farmer for cultivating a healthy balance of plantings leading to food with the greatest flavor and lowest negative impact on the planet. The evolution of his beliefs regarding the consumption, preparation, and production of food are traced through vividly told stories in Soil, Land, Sea, and Seed sections of the book.
The opening section, Soil, is eighty pages of entertaining science and storytelling that proves the author's skill – dirt, we learn, is as full of life as the characters that fill the book. Throughout The Third Plate, Barber manages to educate the reader without lecturing – a rarity in the food sustainability genre. Perhaps it is because Barber brings a chef's true appreciation of food to his argument that it is so palatable-regardless, find a good earthy glass of wind and savor this new writing talent.
Find your copy of The Third Plate at your local Sacramento Public Library by visiting the online library catalog!
Suggested book pairing:
The Once and Future World: Nature As It Was, As It Is, As It Could Be by J.B. MacKinnon
Related Links