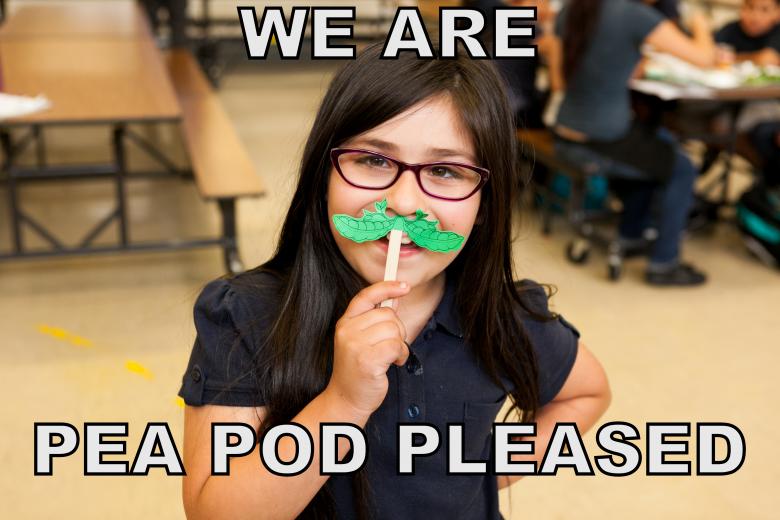 Big Broccoli Day of Giving
Orange you amazing! With your help, we beet, peppered and radished our way to $15,066 during the Big *Broccoli* Day of Giving!
THANK YOU to everyone who donated!
We came so close to reaching our goal of $20,000. If you didn't have time to give yesterday, you can donate now. Help us bring healthy cooking and veggie-loving to Sacramento's kids.
As a tiny nonprofit running on just 3 paid staff and a budget of $271,000, we truly rely on the dollars you donate. Individuals—everyday people like you—are our biggest source of revenue. We get by on the $25 and $100 gifts of generosity you provide.
Thank you for giving!
We make your dollars work extra hard! By teaming with hundreds of community volunteers, we reach 5,000 kids a year!—and growing!
We don't just count heads—we strive for impact. While only 6% of American kids eat their daily amounts of fruits and veggies, we know that 92% of our kids eat their vegetables! Now that's celery success!
We're so proud that you, our donors and volunteers, choose to direct your resources towards our mission.
161 donors contributed yesterday! That's 62% more donors than last year! You showed us once again how much our kids' health means to you.
We are grateful to have earned your confidence. Your dollars will be put to work bringing additional cooking and nutrition classes to low-income elementary kids in our region.
If you haven't yet seen our thank you video, please follow this link to receive a proper broccoli break dance of gratitude!
Thank you to the 161 donors who gave, and to the bloggers, businesses, volunteers, parents and friends who made this possible! We proudly achieved 100% board and 100% staff giving during the campaign. The people who serve this agency are fully committed to partnering with our donors.
On behalf of our kids, we thank you!
A special rhubarb round of applause for our Big Day of Giving Partners:
Food Literacy Center Board of Directors & Staff
Simply Recipes
Honey Agency
Selland's Family Restaurants
Food Literacy Geniuses
Food Literacy Kids
Capitol Heights Academy Staff & Students
Madeloni Photography
Munchie Musings
Pomegranate Design
City Scout
Hook & Ladder Manufacturing Co.
Chocolate Fish Coffee Roasters
Queue
Hanks Hens & All Things Good
Sacramento Region Community Foundation
Capay Valley Farm Shop
Local Chefs: Brian Mizner, Chris Tucker, Jay Veregge, Oliver Ridgeway, Ramon Perez, Tyler Bond, FJ Villalobos, Matt Brown, Scott Ostrander, & Robb Rossi
YOU!
Related Links