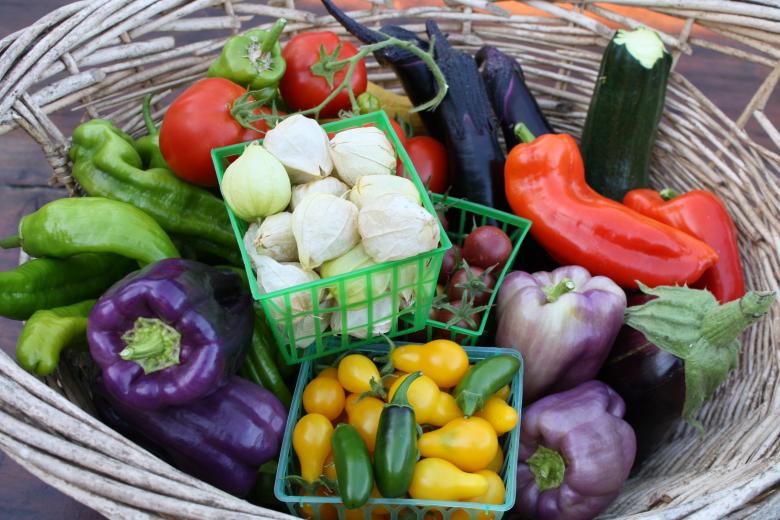 3 Tips for Taking Your Kids to the Farmers Market
Winter's bitter cold is shaken off, and spring is finally here. We welcome its warmth, longer days, and our favorite? The bounty of spring produce!
At Food Literacy Center, we love farmer's markets because they provide opportunities to expose kids to in-season, local produce, encourage conversations with the farmers that grow our food, and involve kids in the process of selecting produce that will be used in family meals and their school lunches.
We know that when kids are involved in the selection of produce and the preparation of their own meals they are more likely to eat fruits and vegetables. What better way to get your kid invested in cooking than a trip to the farmers market! Here are a few tips and tricks for making your next excursion fun for the whole family!
1. Make it a produce scavenger hunt!
With a little planning you can turn your shopping list into a simple "passport" or notebook with drawings of fruits and veggies that your little one can look for at the farmers market. Don't forget to include fun facts about each fruit or veggie! For inspiration, check out our scavenger hunt passport for the Midtown Farmers Market – designed by Unseen Heroes.
Food Literacy Tip: Use the passport as an art activity before you head out to the market! Kids love to draw fruits and veggies! Also, this is a great opportunity to start a dialogue with your kids about food.
Some great questions to ask, include:
Is it a fruit or a vegetable? (Hint: Fruit have seeds, vegetables don't.)
What part of the plant is it? (Fruit, stem, root, leaf, seed, or flower)
2. Ask for samples!
Fruits and veggies taste best when they're in the peak of their season, so what better place to inspire your kids to be food adventurers than the farmers market! At each farmstand, ask for a sample of a fruit or vegetable you see. This simple step will turn shopping into an interactive (and delicious) experience for everyone!
Food Literacy Tip: Try it with your kids. They are great imitators, so give them something great to imitate! Also, don't be discouraged if they don't like it. That's OK! It takes 10-15 exposures to a new fruit or vegetable before a kid decides they like it! Thank them for being so broccoli brave!
3. Let them eat kale!
Kids are more likely to eat the produce they've picked and are excited about. There are many varieties of different fruits and vegetables. For example, if stone fruits are on your shopping list, let them select the type of stone fruit (nectarines, plums, pluots, apricots, etc.) they'd like in their lunch or as a snack. If kale is on your list, ask them to select the type of kale they'd like by engaging all of their senses. Ask them: What does it taste like? Smell like? Feel like? Can you hear a crunch?
Food Literacy Tip: Kids love to cook. When you get the fruits and vegetables home from the farmers market, include the kid in your life in the preparation of the family meal, or their own lunches! Rinsing, grating, chopping or tearing your farmers market produce are great tasks for kids, with supervision!
Join Food Literacy Center at a farmers market near you! View our farmers market schedule here and come say hi!
Related Links