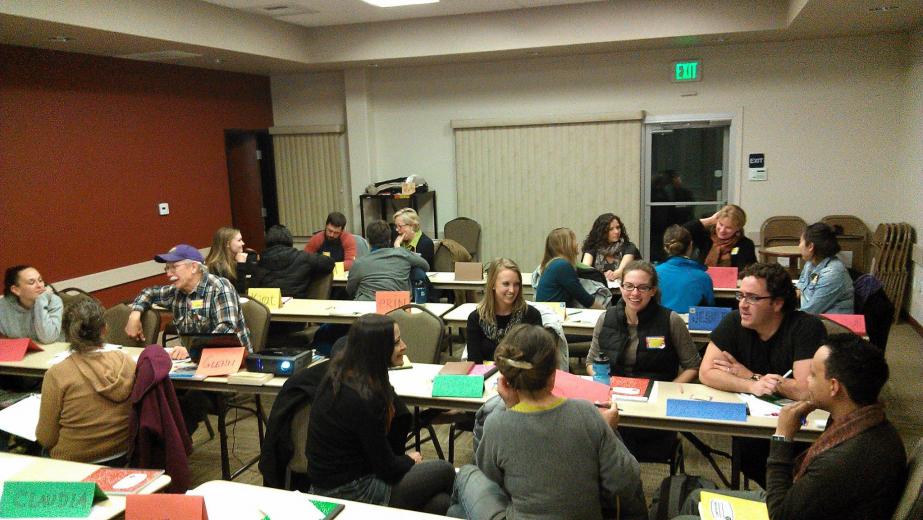 23 Brilliant Minds Begin Lessons at Food Literacy Academy
Two weeks ago, the Food Literacy Academy welcomed its inaugural batch of students for an intensive 10-week training to become food literacy teachers in their communities.
The Food Literacy Academy is designed for volunteers to become food ambassadors in the Sacramento area, with a key focus on South Sacramento, a region targeted by The California Endowment as being of greatest need for nonprofit services to tackle childhood obesity.
"There's a growing demand for our positive approach to food literacy education and that's why we started the Food Literacy Academy," said Amber Stott, founder of California Food Literacy Center and Food Literacy Academy instructor. "We are excited to have such bright and talented leaders in the region enroll in the Academy and I'm sure we can all learn from one another!"
The 23 individuals, ranging from professional chefs, college students and nonprofit executives, kicked off the first few classes of the Food Literacy Academy with unbridled enthusiasm and a thirst for knowledge. They bring with them invaluable personal experiences and expertise to greatly enhance class discussions for the weeks to come. They volunteer for various nonprofit organizations in their communities, and many of them are avid cooks and gardeners.
"They may come from different backgrounds but they all have a passion for healthy food and a desire to pass on food knowledge to kids and families in their communities," said Stott.
The Food Literacy Academy's unique training not only emphasizes our positive approach to food literacy education, it also addresses the health, environmental, and community impacts of our current food system.
In the following weeks, participants will partake in recipe development, cooking in a classroom, and learning to teach audiences of varying ages. They will also learn key food literacy lessons and activities to take into the classroom or community and will receive a food safety and official food handler certificate.
Upon completion of the intensive 10-week training and after passing an instruction exam in front of a panel, they will become certified Food Literacy Advocates. They will be deployed to provide much needed food literacy education in their communities, each serving 100 hours annually. Kids and families will definitely benefit from these talented individual's knowledge and enthusiasm for not only nutritious foods but also a healthy food system!
Related Links