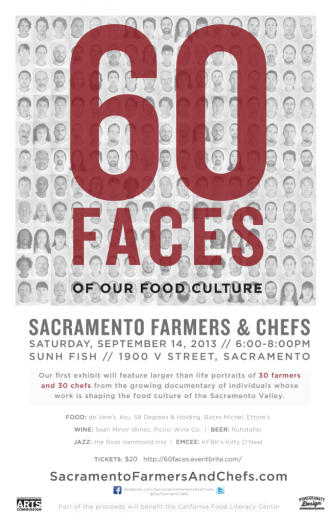 Photo Series Captures Sacramento's Blossoming Food Culture
The Sacramento region's rich food culture is captured in the photography series "Sacramento Farmers and Chefs" by Janine Mapurunga. The larger-than-life portraits of 30 farmers and 30 chefs, including California Food Literacy Center's Amber Stott, will premiere at the "60 Faces of our Food Culture" exhibit on Saturday, Sept 14, from 6 to 8 p.m. at Sunh Fish.
The idea for this project began when Janine was commissioned by Patrick Mulvaney of Mulvaney B&L to develop a project about where the food from his restaurant came from. She traveled for six months to several farms in the Sacramento area and met local farmers.
Janine started photographing chefs in Sacramento, then farmers, and started collecting their stories. Her ideas evolved into the "Sacramento Farmers and Chefs" photo series, showcasing the people whose work is shaping the food culture of the Sacramento Valley. This project is a historical archive baring witness to the food movement that started in Sacramento.
As part of our EatSMART fundraiser, Janine will take a portrait of a winning EatSMART server. Servers from each of our more than 60 participating restaurants will compete to get the most donations for our campaign. The top server at each restaurant will be entered into a raffle and the winner will have his or her portrait taken by Janine.
Tickets for the "60 Faces of our Food Culture" exhibit are $20 and proceeds will benefit California Food Literacy Center. There will be food by Kru, Bistro Michel, Ettore's, de Vere's Irish Pub, and 58 Degrees & Holding, wine from Sean Minor Wines and Pinic Wine Co, and beer by Ruhstaller. There also will be live jazz by the Ross Hammond Trio. Get your tickets from http://60faces.eventbrite.com/ and celebrate with the community the wonderfully diverse and rich food culture of Sacramento.
Article by Heather Teoh
Related Links