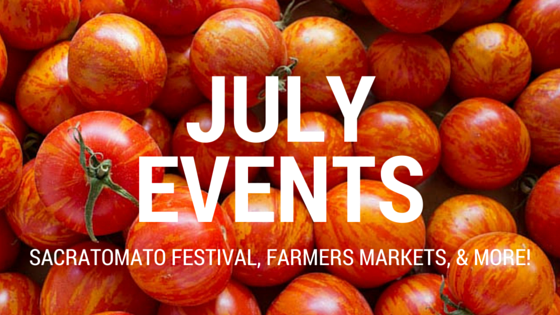 Upcoming July Events
We are doing tomato toe-touches of joy for all of the fun community events we have in store for the month of July. Mark your calendars!
Oak Park Farmers Market
Saturday, July 9 from 9am – 1 pm
McClatchy Park at 35th and 5th Ave, Sacramento
Oak Park farmer's market features live music, free yoga, activities for children (story-telling, face painting, art projects), and of course, locally produced foods and fresh fruits and veggies! And don't forget to come visit our booth! Click here for more information.
Midtown Farmer's Market
Saturday, July 16 from 8am – 1pm
2020 J Street, Sacramento
Join us at the Food Literacy Center Kid's Zone at Midtown Farmer's Market! Make shopping for locally produced foods fun by participating in our farmer's market scavenger hunt. Discover new seasonal fruits and veggies and receive a Food Literacy Center cookbook that includes recipes featuring this week's produce picks! Click here for more information.
Capay Tomato Festival
Saturday, July 16 from 3pm – 11pm
23800 State Highway 16, Capay
Join us at Capay Organic's 9th Annual Capay Tomato Festival to celebrate all things tomato. Taste fresh tomatoes from the fields Capay Organic and be sure to vote for your favorite. Dance the night away to live music, enjoy local food, and even take a tractor-tram tour of the farm. Stop by our booth with your kids and enjoy a food literacy craft activity!
FREE to kids 12 and under. Click here for more information.
Sacratomato Festival
​Saturday, July 23 from 4pm – 8pm
Sutter's Fort State Historic Park – 2701 L St, Sacramento
Tomatoes galore! Be sure to check out the final day of Midtown Sacramento's Sutter District's third annual Sacratomato Week. There will be fun activities like tomato tasting, cooking demonstrations, face painting, games, a grow-your-own tomato activity, and more! Click here for more information.
Oak Park Sol Free Cooking Class
Saturday, July 30th from 10:30am-11:30am
Oak Park Sol Community Gardens – 3733 Broadway, Sacramento
Food Literacy Center is partnering with Oak Park Sol to provide FREE cooking and nutrition classes for the whole family at the beautiful Oak Park Sol's outdoor kitchen! Join us for a fun-filled hour that will inspire you and your family to eat your veggies! Click here for more information & to RSVP!
Related Links