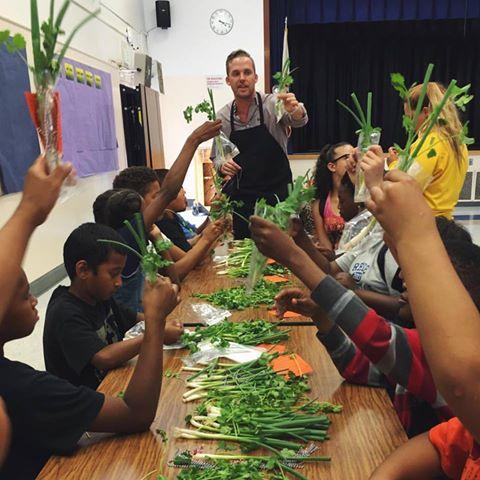 Leataata Floyd celebrates first year of food literacy
Food Literacy Center's first year at Leataata Floyd Elementary School, sponsored by Raley's Family of Fine Stores, has come to a cauliflower close for summer break. During the past 13 weeks the kids became food adventurers, cooking new recipes and tasting new fruits and vegetables like kumquats and rainbow chard.
Through hands-on cooking lessons, students at Leataata Floyd Elementary not only learned about the impact of their food choices on their health, environment and economy, but they had fun – creating a passion for cooking and for food!
To celebrate their accomplishments, we threw a superhero-themed end of the year party for our food literacy superheroes!
During the party students transitioned between 3 different activities.
Activity 1: Make Superbowl Salsa
Students made one of their favorite recipes – Green Dip – which the kids dubbed "Superhero Salsa" for the day! The recipe include green onion - the Produce of the Day!
"Green onion is the best kind of spicy," said one student.
"It smells like guacamole, and I love guacamole," said another.
The dip was a jalapeno hit!
Activity 2: Make a Mother's Day Gift
Students showed their moms some lettuce love by making veggie bouquets out of ingredients in the Superhero Salsa!
Each bouquet included green onion, cilantro and the recipe for the Superhero Salsa!
"If my mom doesn't want it, I'll just eat it," said one student.
Activity 3: Broccoli Break Dancing
Led by one of our volunteers who dances for the Sacramento Kings, students learned how to break dance – from popping to locking! The kids caught on quickly and had a broccoli blast!
To conclude, representatives from Raley's Family of Fine Stores gave each student a certificate for completing one year of food literacy classes!
Thank you to Raley's Family of Fine Stores, and Boys & Girls Clubs of Greater Sacramento and Roberts Family Development Center for partnering with us to bring cooking and nutrition classes to the students at Leataata Floyd Elementary School.
Related Links