Article
Melissa A. Granville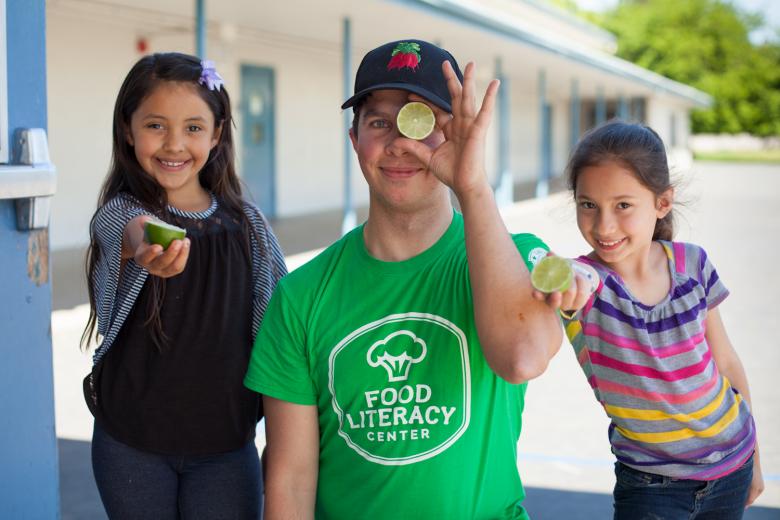 Food Literacy Center Celebrates 5 Years of Inspiring Kids to Eat their Veggies!
This week marks our last week of food literacy class for the 2016-2017 school year – and a mango monumental year it has been.
2016-2017 Highlights:
Expanded to nine schools, reaching 950 low-income kids weekly
Food Literacy Corps members served over 13,000 hours & taught over 250 food literacy classes
84 trained Food Geniuses
Established Food Literacy Club at two schools, where students continue to practice food literacy through hands-on cooking lessons
To celebrate five years of inspiring kids to eat their veggies, we asked a few of our students what they love about the program!
Sabrina, 5th grader
Sabrina's favorite part about food literacy class is learning about how food works in our body. Her mom told us that Sabrina and her sister love food literacy class and were excited to make veggie spring rolls and white bean hummus this year! According to her mom, Sabrina brought the white bean hummus recipe home and asked her to buy the right beans (cannellini beans) "so that it tastes like the one we make in food literacy class." We're excited that Sabrina is bringing food literacy home to her family and practicing the healthy habits she is learning in class!
Jacob, 2nd grader
"My favorite recipe is the sunbutter sandwich with the fruit!"
Students learn to make a recipe with our signature lesson: a sunbutter and apple sandwich. Most children have eaten a peanut butter sandwich—and most love them. Using positive reinforcement, this lesson builds on something familiar, nudging kids outside their comfort zone. Instead of jelly, the recipe uses fresh fruit slices, such as apples, which have less sugar and more fiber. Kids learn to make easy changes to incorporate fruits and veggies into their diets. This lesson exemplifies our ability to provide complex information in a straightforward and approachable manner.
Related Links