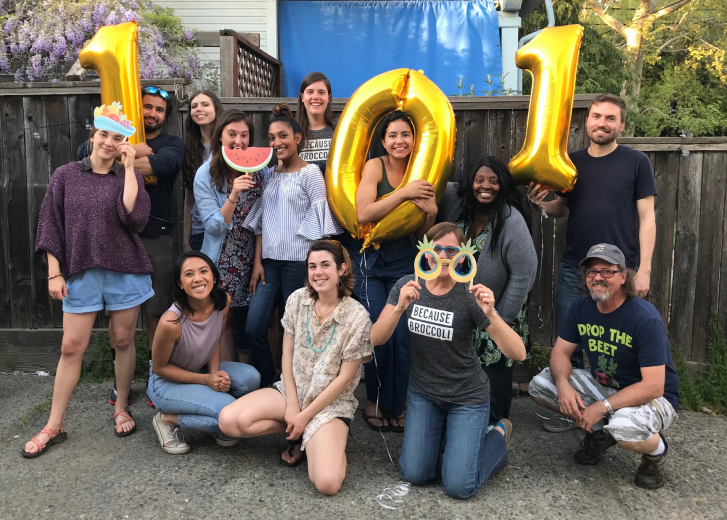 Food Geniuses: From 1 to 101…Highlights from Food Literacy Academy
This week, we celery-brate 101 certified Food Geniuses completing our Food Literacy Academy – an intensive training that prepares community members with the skills needed to teach food literacy to our kids.
Highlights:
First cohort trained in 2013
16 schools and 31 library branches served
Food Literacy Corps members served over 30,000 hours & taught over 3,000 food literacy classes
101 trained Food Geniuses
To celebrate five years of Food Geniuses inspiring kids to eat their veggies, we caught up with a few from our first cohort to see what they've been up to.
Payam Fardanesh, Silk Road
Payam Fardanesh launched his company, Silk Road, while attending Food Literacy Academy – talk about commitment to our community! Payam continues to support Food Literacy Center with donations to Sacramento Food Film Festival and volunteers in the classroom when he can.
Kirat Bain, My Sister's House
Kirat Bain has been volunteering with Food Literacy Center from the start in 2012. When we launched our Food Literacy Academy training program, she was one of the first to apply. Kirat currently works for My Sister's House, continuing to support her community and starting a Master's program in Humanities at Sac State in the fall.
Dawnie Andrak, Local Roots Food Tours
Dawnie Andrak actively supports Food Literacy Center through her thriving company, Local Roots Food Tours. Dawnie served a full board service term of five years after becoming a Food Genius, and continues to support us through donations and volunteerism.
Natalie Lanning, SNAP-Ed
Natalie Lanning just completed a Master's degree in Food Systems and works for the SNAP-Ed Connection, delivering critical education to low-income families. Natalie continues to stay connected as an active member of the local food movement.
We are pepper proud to have these community leaders well versed in the preventative benefits of building healthy habits by eating vegetables!
Related Links