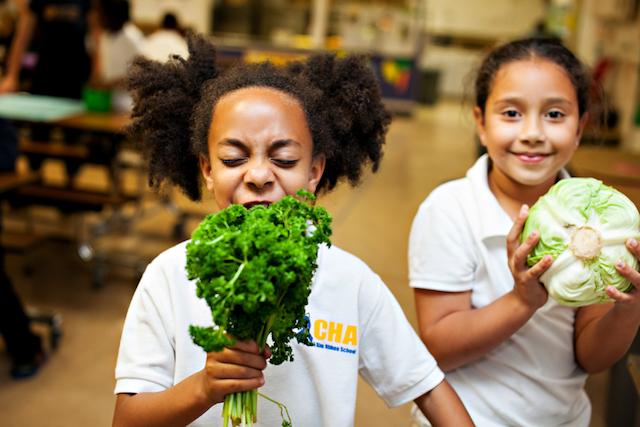 Don't Yuck My Yum
Food Literacy Tips & Tricks
When kids see new vegetables, they have a programmed response: "Eww! Gross!" Sound familiar? It's easy to chalk this up to kids just being kids. Yet, this behavior is learned.
What if kids saw green beans and shouted with glee? What if sun chokes made them sing? This is precisely what happens when we help kids shift their attitude towards produce. When we change their reaction, we're on our way to changing their attitude.
At Food Literacy Center, we have a rule. We call it "Don't Yuck My Yum." It's simple: the food you don't like may be someone else's very favorite food. So, we must be polite. We don't want to hurt someone else's feelings & we want everyone to have a positive experience with food.
Once we explain our rule, it takes some settling into. Kids revert to their gut retort of shouting elementary expletives in the direction of our fruit and veggie friends. Every time, we gently remind them. "Don't yuck my yum," a teacher will say. Before we present a new food to our students, we remind them again. "What's our rule about new foods?" Everyone chimes, "Don't yuck my yum!" Eventually, kids have rehearsed it enough that you'll find them warning each other.
At Food Literacy Center, we set our children up for success by creating this rule for cooking and tasting new foods together – and it works! Try it at home with your kids before making a recipe, and watch your kids turn into Food Adventurers like the kids in food literacy class.
Related Links