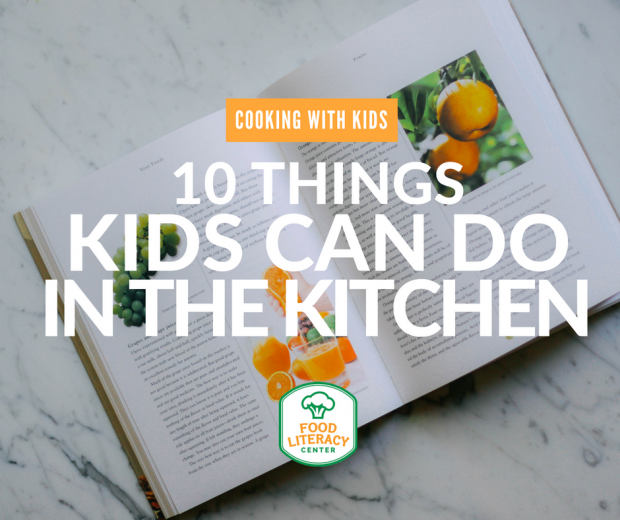 Cooking with Kids!
10 Things Kids Can Do in the Kitchen
There's something particularly special about cooking with kids. Kids that help in the kitchen learn the "how" and "why" their meals are prepared. For them it's fascinating, engaging and above all, a lot of fun! Also, kids are more likely to eat veggies when they prepare them.
Here are our top 10 Kid-friendly kitchen duties to get your culinary protégé acting as your new sous chef.
Deciding the Menu: It can be very empowering for a child to have a say in what you have for dinner. Give them a few recipe selections and have them decide on what the family should dine on that evening. The more power they have in the decision, the more likely they are to eat!
Mise en Place: Once you've decided on a recipe, ask your kids to gather all the ingredients from the pantry, refrigerator and cabinets and set them out on the counter to prep for dinner.
Prep the Vegetables: Once your produce is out and ready, invite your kids to rinse and pat the vegetables dry. Be sure to explain and ask questions to improve their veggie-knowledge!
Measuring/Pouring: This is one of the kitchen favorites. Once everything is in order, measure your ingredients with measuring cups and spoons and have your kids pour in their respective bowls or dishes.
Stirring: The next easiest step is allowing them to do the stirring. Whether it's a spoon, whisk or fork, give them a chance to put some elbow grease into that stir!
Sprinkling and garnishing: Shake things up and have your kids do the sprinkling. Have cheese to top off the pasta? Perhaps you want to add herbs and spices to liven up the dish? They'd love to do it.
Sampling! Probably the most fun part of the culinary experience. After all the effort they've put in to help you make the dish, it's time to taste-test to make sure all flavors are to their liking!
Table Setting. Surprisingly, this is a simple and satisfying task. Allow them to gather utensils and napkins and set across the dinner table for all the diners.
Serving and Enjoying. Now let them enjoy the fruits of their labor! They've helped you prepare the meal, now allow them the excitement to serve the dish and the fulfillment of watching everyone at the table love their cooking!
Conversation and Clean Up. Be sure to ask questions about their favorite part of helping you cook. Reward your kids with praise and gratitude for taking time to help you prepare a nutritious and healthy meal.
Related Links