Recipe
Sabrina Modeste of The Tomato Tart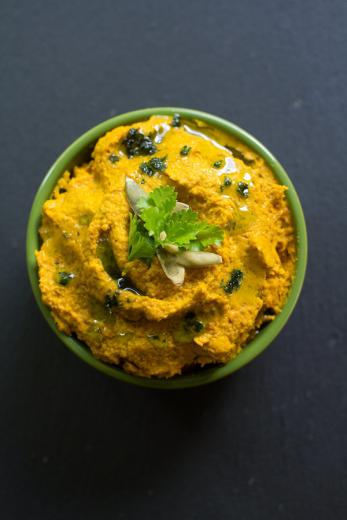 Spicy Roasted Carrot "Hummus" Veggie Dip
This simple veggie dip highlights the Vegetable of the Month - carrots! It's creamy and a little spicy, and a great snack for you and your family and friends.
Yield: 2 cups
Ingredients
3 lbs carrots, peeled
½ large red onion thickly sliced
1 jalapeno, thickly sliced (optional)
1 cup raw green pumpkin seeds (pepitas)
½ cup olive oil (divided)
1 handful of fresh parsley or cilantro (optional)
1 tablespoon cumin
¼ cup lime juice
1 teaspoon sea salt
Instructions for Adults
Preheat oven to 375º and line a baking sheet with parchment paper. On the baking sheet, toss carrots, onion slices, and jalapeño with one tablespoon of olive oil and spread out so that nothing is touching. Check the onions and jalapeños after 20 minutes and remove if they are cooked through and soft. Turn the carrots and cook for another 25-30 minutes. They are done when they're caramelized and quite soft.
In a food processor, pulse pumpkin seeds, olive oil, and fresh herbs (if using) until the mixture is creamy with a bit of texture- not unlike chunky peanut butter. Add the carrots, olive oil, onions, jalapeños (if using), cumin, lime juice, and salt and process until smooth and creamy. I stop just short of completely smooth as I love a bit of texture, but you can keep processing until completely smooth. Serve with crudités, chips, crackers, or spread on toast for a fabulous treat. If you like, you can add a little drizzle of herbed olive oil and some toasted pepitas on top!
Hello! We hope you made and enjoyed this recipe provided by The Tomato Tart. Please note that all photos and content are copyright protected. Please do not use our photos without prior written permission. If you wish to republish this recipe, please rewrite the recipe in your own unique words and link back to Spicy Roasted Carrot "Hummus" Veggie Dip on Food Literacy Center's website. Thank you!
Related Links