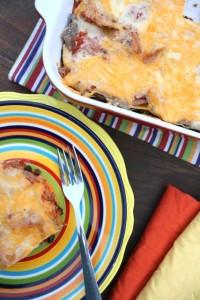 Chilaquiles Casserole Recipe
Happy Cesar Chavez Day!
Ingredients
½ Tablespoon grapeseed or canola oil
1 large onion, chopped
1 cup chopped mushrooms
2 cups kale, stems removed & leaves roughly chopped
4 cloves garlic, minced
1 cup frozen corn
15 oz can black beans, drained and rinsed
1 Tablespoon chili powder
2 teaspoons ground cumin
Salt & pepper to taste
1 package corn tortillas, divided
4 cups whole tortilla chips, divided
24 oz salsa—choose your favorite, divided
1 ½ cups jack cheese, shredded, divided
1 ½ cups cheddar cheese, shredded, divided
Farmers' market ingredients
onion
mushrooms
kale
corn tortillas
cheese
Supermarket ingredients
oil
frozen corn
black beans
spices
tortilla chips
salsa
Instructions
Preheat oven to 350 degrees.
Lightly grease a 9 x 13 inch casserole dish and set aside.
Heat a large skillet over medium high heat. Add the oil and swirl to coat the inside of the pan. Add the onion and mushrooms and sauté about 3 to 5 minutes, until they are beginning to soften. Add the kale and garlic and sauté another 3 minutes. Add the corn, black beans, chili powder, cumin, and salt and pepper to taste, and sauté and stir about 3 minutes more, until the spices are evenly distributed. Remove from heat and set aside.
Now, evenly layer the following items in the following order into the greased casserole dish:
Corn tortillas—half the package.
Tortilla chips—2 cups, or half
Sautéed veggies & beans—all
Salsa—12 oz, or half
Cheese—half, or ¾ cup of each
Corn tortillas—final half package
Tortilla chips—remaining 2 cups
Salsa—12 oz, or remaining half
Cheese—remaining half, or ¾ cup of each
Cover the casserole dish with aluminum foil. Bake in preheated oven for 40 minutes, or until cheese is bubbly and golden. Serve.
Yield: 8 large servings
*This recipe originally appeared on Awake at the Whisk
Related Links