Recipe
By: Pastry Chef Laurel Malchor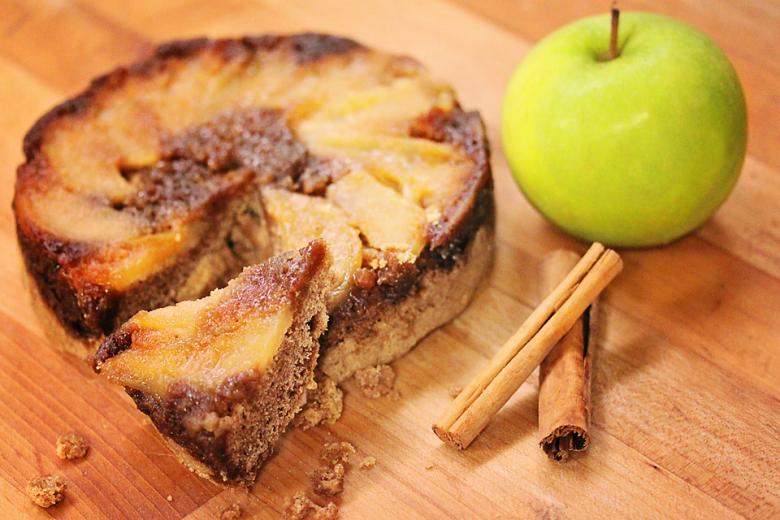 Apple Spice Upside-Down Cake Recipe
Apples are in season! This gorgeous dessert features the fall fruit in all its glory. Spiced with cinnamon, ginger and cloves, this apple upside-down cake is perfect for the start of the fall season. Thank you Pastry Chef Laurel Melchor for this wonderful recipe!
September is Food Literacy Month! Dine at the restaurants participating in our EatSMART campaign this month to support our food literacy programs.
Apple Spice Upside-Down Cake Recipe
Recipe from Pastry Chef Laurel Melchor of the Paragary Bakery
Ingredients:
2 cups all-purpose flour
1 ½ teaspoon baking soda
½ teaspoon salt
½ teaspoon cinnamon
½ teaspoon ground ginger
1/8 teaspoon ground cloves
1 ½ cups sugar
6 ounces butter, room temperature
2 eggs
½ pound apples, peeled, cored and cut into thick slices (2-3 apples)
1/3 cup brown sugar
2 ounces butter, melted
Instructions:
Sift together flour, baking soda, salt and spices. Set aside.
In the bowl of a stand mixer fitted with the paddle attachment, cream the butter and sugar until light and fluffy, about 3 minutes. Add the eggs one at a time, mixing well after each addition. Scrape down the bowl very well. Add the dry ingredients and mix slowly just to combine. The batter will be very thick and sticky looking. Set aside.
Pour the 2 ounces of melted butter into a 9" cake pan. Tilt the pan so the butter coats the sides and bottom completely. Sprinkle the brown sugar evenly over the bottom of pan. Arrange apple slices in an even layer over the brown sugar.
Pour the cake batter gently over the apples, spreading it carefully so as not to disturb the layer of apples.
Bake at 350°F 35-40 minutes. A toothpick inserted in the center of the cake should come out clean.
Allow cake to cool to room temperature. Run a thin knife around the edges of the pan, place a large plate on top of the pan and quickly invert the cake onto the plate. Tap the top a couple of time to encourage the cake to release its hold on the pan. Gently remove the pan. If a few apples cling to the pan, lift them back into place on top of the cake.
This cake can be cut and served immediately, but it actually increases in flavor and is even more delicious the next day.
Enjoy!!
Hello! We hope you made and enjoyed this recipe from our Your Sandwich Can Save the World! Food Literacy Curriculum! Please note that all photos and content are copyright protected. Please do not use our photos without prior written permission. If you wish to republish this recipe, please rewrite the recipe in your own unique words and link back to on Food Literacy Center's website. Thank you!
© 2016 Food Literacy Center. All rights reserved. Do not copy or share without written permission.
Related Links