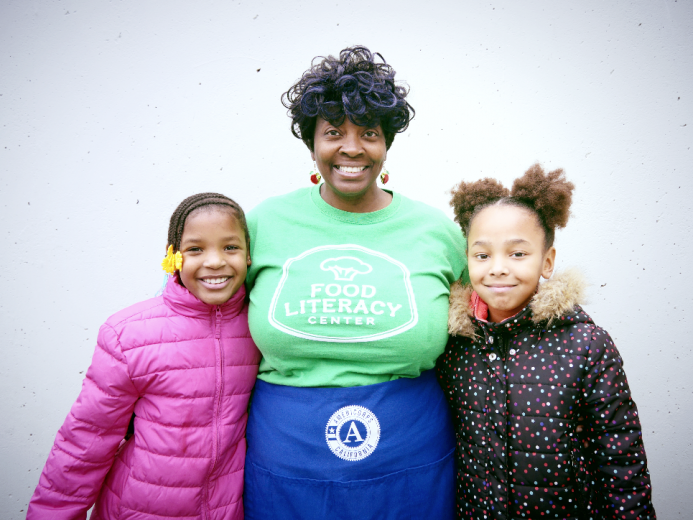 Adrienne Sellers
Food Literacy Corps Member
Adrienne Sellers is an AmeriCorps member serving with Food Literacy Center's second cohort of Food Literacy Corps. She joined the Food Literacy Center team as a Food Literacy Corps member in September 2017 and will complete her term in August 2018. Adrienne is responsible for teaching food literacy curriculum to low-income students at David Reese Elementary School, Oak Ridge Elementary School, St. Hope PS7 Elementary, and Leataata Floyd Elementary School. She is the lead contact person at Leataata Floyd, where she keeps an open line of communication with her team and the after-school staff, and informs volunteers of their duties and the daily lessons.
Adrienne holds an associate degree in social science and an associate degree in languages and literature from Sacramento City College.
Why did you choose to do a year of AmeriCorps service?
l chose to do a year of AmeriCorps service because l want to help children learn different ways to eat and prepare fruits and vegetables, While teaching them to make healthy food choices so they learn what foods are good and bad for them, l'm also helping them read a recipe and have fun in the after school food literacy program.
Favorite moment in the classroom this year?
My favorite moment in the classroom was when l got children to change their minds about foods they had never heard about and they actually ate and liked them. When I ask them if they liked it, the smiles on their faces was the best feeling ever!!!
What is the most interesting fruit and/or vegetable you've tried this year?
The most interesting fruit I ate so far was the Prickly Pear. l didn't know what that was, or that you could eat fruit from a cactus plant. l ate it and it was really good! It taste kind of like bubblegum and watermelon mixed together. The most interesting vegetable I ate was the cactus. l ate it in a salsa with some tortilla chips. Amber made the salsa and it was delicious!!! I've got to get that recipe.
What do you plan to do with the skills you've gained at Food Literacy Center this year (what's next)?
l plan to continue learning new food recipes, cooking skills, and trying new fruits and vegetables so l can make more delicious meals and snacks for my family. l will educate my family and friends about the nutritional values in different kinds of foods so they are aware of what they are eating. My experiences at Food Literacy Center have been apple-licious amazing!!! l'm not sure what journey awaits me but l am definitely a Food Adventurer for life!! l can't wait!
Related Links