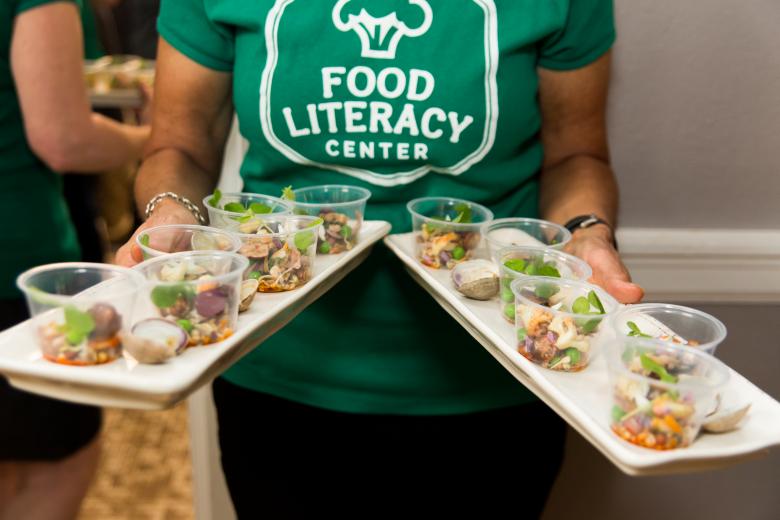 Food Literacy Center's 7th Annual Sacramento Food Film Festival Announces Call for Submissions & 2018 Dates, April 11-21, 2018
CONTACT:
Amber Stott, Founding Executive Director, Food Literacy Center
Phone: (916) 873-2025
Email: amber@foodliteracycenter.org
FOR IMMEDIATE RELEASE
FOOD LITERACY CENTER'S 7TH ANNUAL SACRAMENTO FOOD FILM FESTIVAL ANNOUNCES CALL FOR SUBMISSIONS AND 2018 DATES, APRIL 11 – APRIL 21, 2018
SACRAMENTO, CA – October 13, 2017 – Food Literacy Center will hold its seventh annual Sacramento Food Film Festival at venues throughout Sacramento. Today, Food Literacy Center announced a call for submissions of short films that capture the vast array of topics surrounding food.
The Sacramento Food Film Festival fosters a space for creative narratives and engaging entertainment that celebrate and explore all sections of the food system and the food-related experiences of those all over the world. The goal of the festival is to spark dialog about the challenges and opportunities associated with our food system, as well as the importance of food literacy education.
"As one of only seven other food film festivals in the country, ours is uniquely positioned in California's state capital to create action around important food system issues," said Food Literacy Center's founding executive director, Amber Stott. "As we teach healthy habits to our kids, we are simultaneously working to build the kind of community that supports their healthy choices."
Key dates for the 2018 Sacramento Food Film Festival are as follows:
October 13, 2017: SUBMISSIONS OPEN
January 1, 2018: OFFICIAL ENTRY DEADLINE for short film submissions
February 1, 2018: SELECTIONS ANNOUNCED
April 11-21, 2018: 2018 SACRAMENTO FOOD FILM FESTIVAL
Information regarding the eligibility, rules and regulations for the 2018 Sacramento Food Film Festival will available at: www.foodliteracycenter.org/film-festival. Any questions concerning submissions may be directed to foodfilms@foodliteracycenter.org or (916) 476-4766.
###
ABOUT THE SACRAMENTO FOOD FILM FESTIVAL
The Sacramento Food Film Festival is a celebration of food, films and fun! Created in 2012, the Sacramento Food Film Festival was founded on the notion to educate the public about the current food system and inspire positive change. Most films surrounding food issues are often not featured in traditional theaters. Thus, the festival strives to bring the community's attention to these films and issues whilst pairing them with food, fun and activism.
In 2017, with 90 volunteers and 94 partners, the Sacramento Food Film Festival had 634 attendees and raised $42,947 (net). The funds of the event help Food Literacy Center reach more low-income kids with cooking and nutrition classes.
ABOUT FOOD LITERACY CENTER
Food Literacy Center is a nonprofit 501(c)(3) established in 2011 in Sacramento, California, with the mission of inspiring kids to eat their vegetables. The organization provides low-income elementary children with after school programming at 8+ schools throughout the Sacramento County Unified School District that teaches cooking and nutrition to improve health, economy and the environment. For more information about Food Literacy Center, visit http://www.foodliteracycenter.org/.
Related Links