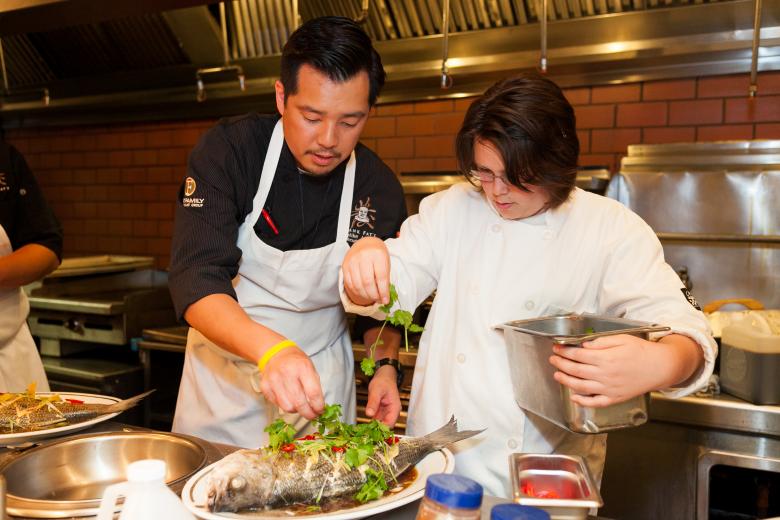 Sacramento Food Film Festival 2015 – A Celery Success!
This Sunday marked the finale of the 2015 Sacramento Food Film Festival, a 10-day celebration of food and films.
Highlights from 2015
910 attendees
$35,420 raised towards Food Literacy Center's annual goal of $437,600! Funds will help us reach more low-income kids with cooking and nutrition classes.
Why this Festival Matters
In our elementary classrooms, Food Literacy Center makes learning fun, inspiring kids to do the perceived impossible: love eating vegetables. Our food film festival takes this same approach: make learning fun—and hands-on!
We bring documentaries to town that haven't been screened in traditional theaters. We pair the films with food, fun and activism.
Activism in Action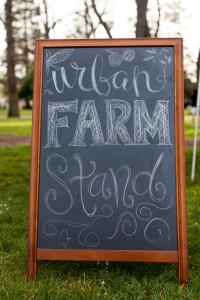 With hard-hitting films on subjects about urban farming, for example, we paired local chef creations with a bus tour of local backyard city farms. Experts joined our tour to spur discussion on a pending City Council vote to increase urban farming and sales of backyard produce. This event was followed by a free public film screening, live music and food trucks in McClatchy Park, drawing press attention and increasing public education around this important issue. Three days later, City Council voted yes to the ordinance!
As one of only four other food film festivals in the country, ours is uniquely positioned in California's state capital to create action around important food system issues. As we teach healthy habits to our kids, we are simultaneously working to build the kind of community that supports their healthy choices.
Catherine Enfield, Festival Founder
2015 marked the first year that Food Literacy Center ran the festival on our own. In the past, we served as beneficiary. This year, Catherine Enfield, festival founder, handed over the reins to us officially. She remains on our planning committee, lending her expertise to film selection and event development. We're grapefruit grateful to her for this incredible donation!
We made a quick video to honor Catherine. Watch it here!
Photos & News Clips
Check out our photo gallery! A royal rhubarb round off of thanks to our volunteer photographers for their time & talent: Marita Madeloni, Erin Alderson, & Suzanne Hambleton.
The Sacramento Bee hit the nail on the head with this overview of the festival's goals.
KCRA3 featured our work in partnership with the Sacramento Urban Agriculture Coalition to raise awareness about the city's urban ag ordinance, which passed three days later!
Mix96 wrote a great roundup of festival highlights.
Big Broccoli Back Flips of Thanks!
Sponsors
Simply Recipes, Barry & Lynda Keller, America's Farm-to-Fork Capital, Capital Public Radio, Carbon BLU, Chocolate Fish Coffee Roasters, Conservation Strategy Group, Ella Dining Room + Bar, Federalist Public House, Five Star Bank, Jiffy Lube, Pomegranate Design, Queue App, Confucius Institute at UC Davis, Yelp, and Whole Foods Sacramento
Partners
Broadway Rudeboy, California Commission on the Status of Women and Girls, California State Library, Dawnie Andrak, Fat Family Restaurant Group, General Produce, Green Restaurant Alliance Sacramento, Sacramento Public Library, Sacramento Food System Collaborative, SACSAFⅡ.com, Sacramento Urban Agriculture Coalition, Sierra Sacramento Valley Medical Society, Slow Food Sacramento, Southwest Airlines, Superior Farms, Ruhstaller, UC Davis, Way Up Sacramento, and World Food Center.
Chefs & Restaurants
Michael Thiemann, Mother & Empress Tavern; Brian Mizner, Hook & Ladder Manufacturing Co.; Aimal Formoli, Formoli's Bistro; Hank Shaw; Jay Veregge, Ten22; Mike Lim, Frank Fat's, Oliver Ridgeway, The Grange; Adam Pechal; Ed Roehr, Magpie Cafe; Chris Jarosz, Capital Dime; Rob Rossi, Pangaea Bier Cafe; Kurt Spataro, Paragary Restaurant Group; Dirty Feet Dining Crew, including: Scott Ostrander, Esquire Grill; Tyler Bond, Kru Contemporary Japanese Cuisine, Brock Macdonald, Block Butcher Bar, Ramon Perez, Puur Chocolat; Shannon McElroy, Federalist Public House; Ian McBride, Lucca Restaurant & Bar; Rick Mahan, OneSpeed Pizza; Matt Brown, Forester Foods, Hot Italian, Elaine Baker, Ella Dining Room & Bar, Chris Tucker, Hook & Ladder; Brad Peters, Hock Farm Craft & Provisions; Ravin Patel, Ella Dining Room & Bar; Randall Selland, The Selland Family of Restaurants; Edie & Andy Baker, Chocolate Fish Coffee Roasters; Brenda Ruiz; Jason Poole, Preservation & Co.; Lisa Musilli Johnson, Metro Juice Company; Silk Road Soda; Wes Nilssen, de'Vere's Irish Pub; The Culinerdy Cruzer; and North Border Taco.
Supporters
About a Bite, Alley Katz, Assemblymember Jacqui Irwin, Assemblymember Kevin McCarty, ASR, Back to the Roots, Beanilla, California Rural Legal Assistance Foundation, Chipotle Mexican Grill, Christine Anthony & Owen Masterson, City Councilmember Jay Schenirer, Clunie Community Center, Crocker Art Museum, Eden Organic, Edible Sacramento, Elmore Beehive Products, Erin Alderson, Fairytale Town, Ficklin Wilcox, Garrett McCord, Ginger Elizabeth Chocolates, Goldfield Trading Post, Griffon Hammond, Josh & Gina Nelson, Kelly Carlisle, Ketel One, KIND, Laughs Unlimited, Lesley McClurg, Food & Sustainability Reporter, Capital Public Radio, Lindsey Sin, Deputy Secretary, Women Veterans Affairs, California Department of Veterans Affairs, Liquidology Bar, Mamma Chia, Mary Kimball, Center for Land-Based Learning, Mary Keams, Mayra Orellana-Powell, Nicole Desmond, Orietta Gianjorio, Paragary Restaurant Group, Paul Martins, Paul Trudeau, PF Changs, Practical Cycle LLC, Preservation & Co., Punchline Sacramento Comedy Club, Randall & Nancy Selland, Ramos Olive Oil, Revolution Wines, Robert Charland, Royal Coffee, Inc., Sacramento Beekeeping Supplies, Sacramento Central Labor Council, Sacramento City Unified School District Board Member Jessie Ryan, Sacramento Natural Foods Co-op, Sacramento Pipeworks Climbing & Fitness, Sacramento Republic FC, Sacramento River Cats, Sacramento Zoo, Sarah Gerber, Sanjay Rawal, Selland Family Restaurants, Sheryl Trapani, Sonoma Passport, Sonia Kendrick, Sugar Shots Bakery, Sunh Fish, Soil Born Farms, Susie Cakes, Tea List Davis, Tim Bailey, Time Tested Books, Turn Verein, US Department of Agriculture State Director Genda Humiston, Utterback Sod Farm, VSCO, Whole Hearted Juice Company, XOSO Sport & Social League, and Yisrael Family Farms.
Planning Committee
Anya Lawler, Callista Wengler, Catherine Enfield, Dawnie Andrak, Hana Lee, Heather Mendez, Maria Zefo, Matthew Blackburn, Michelle Logsdon, Nicole Rogers, Shannin Stein, Caela Watkins and Sofia Carroll.
2015 Festival T-shirts
We have a limited supply of 2015 Pomegranate Design original festival t-shirts available with a $20 donation. Get yours before they're all gone! To get yours, make a donation of $20 and specify your shirt size in the notes section. Only women's sizes available – Small, Medium & Large.
Related Links