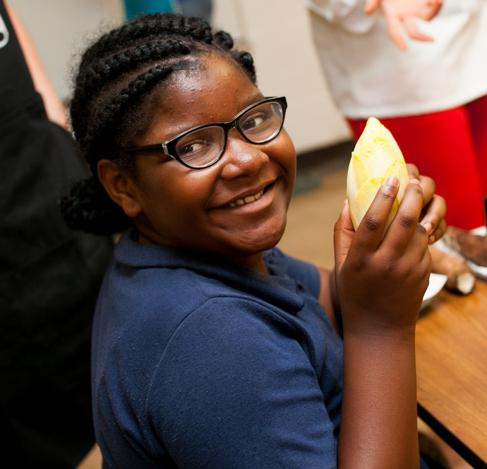 Becoming a Food Adventurer: Courtne's Story
"Whenever I eat, I make sure I have a fruit or a vegetable," Courtne declares proudly.
Courtne is in third grade and has been a Food Literacy Center student since Kindergarten. Back then, she didn't like eating fruits and vegetables. She said her mom would buy them, but she didn't want to eat them.
"I only loved apples and bananas, and I didn't like carrots" she remembers. "Now I pretty much eat all the fruits and lots of vegetables. Now I really like carrots. I like them now because I know how they taste," she says with a smile.
In our cooking and nutrition classes for low-income elementary kids, our focus is on inspiring kids to eat their vegetables.
During every class, we provide Produce of the Day—a bite of a new, seasonal fruit or vegetable combined with fun facts about what kids are tasting.
Our goal is to expose kids to a wide variety of produce to improve their attitude towards healthy foods. Kids often hesitate the first time they encounter a new food, but with repeat exposure, they begin to grow adventurous and less afraid—even excited to taste new foods.
Studies show that kids' early experiences eating fruits and vegetables are critical to building a lifetime of healthy eating habits.
Kids like Courtne repeatedly tell us that the Produce of the Day is their favorite part of food literacy classes. Imagine that! Our students learn to love exploring new foods. We call them Food Adventurers!
"My favorite part is learning, and that at the end of class we get to taste the different foods," our food adventurer, Courtne, beams.
"When everyone's talking I get sad," she says, "because I want to hear what the teacher is saying."
Courtne's first memory of food literacy class is from Kindergarten when she learned to follow a recipe and make a sun butter and apple sandwich. Using apples instead of jelly means the recipe has less sugar and more healthy fiber that kids need.
"At first I didn't think it was going to be a great sandwich," she recalls. "But then I tasted it and it was good!"
Today, Courtne makes lots of peanut butter sandwiches at home, experimenting with different fruits—and even vegetables!
"One time I tried it with carrots," she winces. "It wasn't the best."
Courtne's no longer afraid to try tasting new foods on her own. In fact, she tells us that she asks her mom to buy her more produce so she can make the recipes she's learned in class. She says her mom has started to buy "all kinds" of fruits and veggies.
"Whenever I eat, I make sure I have a fruit or a vegetable," Courtne declares proudly.
Related Links