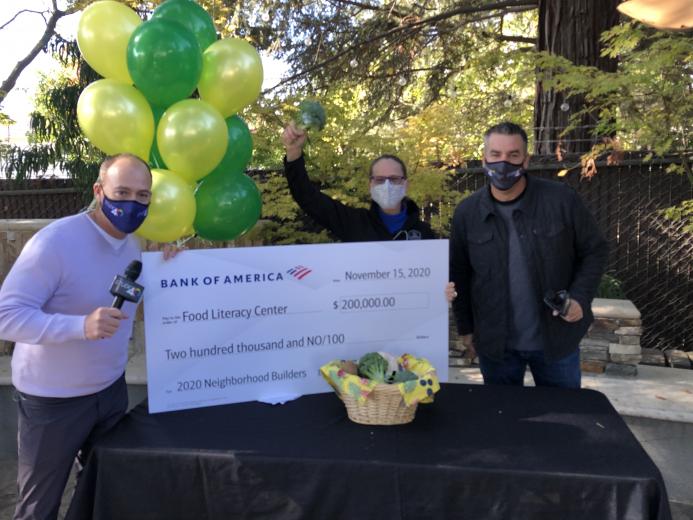 Bank of America Grant Announcement
Founder Surprised on Studio40 LIVE
This year is full of surprises–and this time, we have happy news to share. We have been selected as a Neighborhood Builder by Bank of America! This prestigious award couldn't come at a better time. In a difficult year when our donors from hard-hit industries like restaurants were unable to continue their funding, this award will help cover that gap.
This award includes a $100,000 grant both this year and next ($200K over 2 years)! It also includes leadership training for our founder, Amber Stott, and our program manager, Evelyn Morales. They will get to train alongside a network of nonprofit peers from across the country, building additional skills to serve the kids and families we reach.
We're grateful for this funding and for the opportunity to better serve our kids and families!
Here's what we're hearing about this award:
"Watching Food Literacy Center pivot its programs during this crisis demonstrates strong leadership, which is a critical quality for this grant program. Their nonprofit model was strongly dependent on working hands-on with children, yet they quickly changed their outreach to meet the new needs of the families they serve. That's deserving of this award!" ~ Scott Moak, Vice President, Community Investment, Sacramento Republic FC
"We're thrilled to recognize Food Literacy Center as our 2020 Neighborhood Builder awardee. Their success in teaching children from underserved communities the importance of eating and loving their vegetables is critical to the health of our Sacramento community. We're proud to support their growth and development through funding and leadership training; I look forward to working with Amber and her team over the next two years". ~ Lori Rianda, Senior Vice President, Local Market Organization, Bank of America
About the grant:
"Through Neighborhood Builders, we empower nonprofit leaders to more effectively address pressing community needs by providing them with a unique combination of leadership development (for the executive director and an emerging leader), $200,000 in flexible funding, a network of peer organizations across the U.S., and an opportunity to access capital."
Watch the Studio40 LIVE segment with Amber Stott as she is surprised at the end with the check presentation.
Related Links