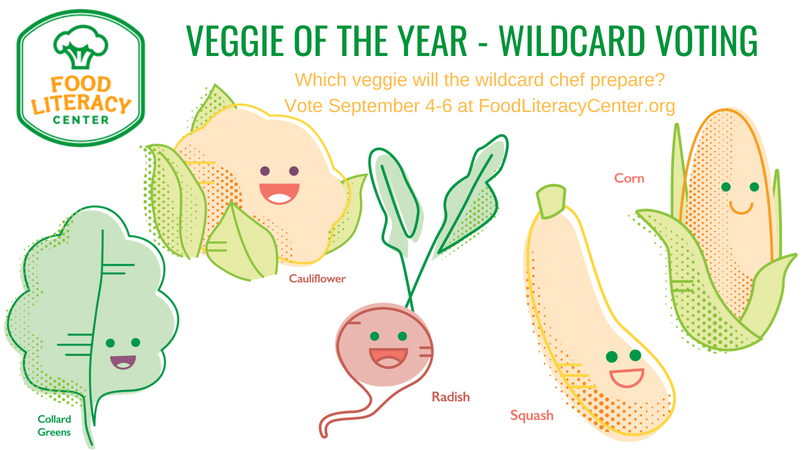 2018 Veggie of the Year – Wildcard Voting
Cast Your Vote
Veggie of the Year is back to help celebrate Food Literacy Month. This year, all five past winning veggies and their chefs, and one wildcard, will be competing for the ultimate veggie crown.
You can help by picking the wildcard vegetable that will be prepared by Chef Rick Mahan from OneSpeed Pizza and The Waterboy.
Full Vegetable Line-up & Chefs
2013 Winner: Sweet Potato, Shannon McElroy, Formerly of Masullo
2014 Winner: Carrot, Ravin Patel, Selland Family Restaurant
2015 Winner: Bell Pepper, Suleka Sun-Lindley, VEG Restaurant
2016 Winner: Nopales, Kurt Spataro, Paragary Restaurant Group
2017 Winner: Beet, Justine Kelly, Sun Basket
Wildcard: Rick Mahan, The Waterboy & OneSpeed Pizza
These six vegetables will be presented at Pacific Elementary School, where 150 K-5th grade food literacy students will vote on their favorite vegetable on September 20.
Vote for the Wildcard Veggie. Voting closes September 6th.
Related Links
You can no longer particpate in this poll, because this poll is closed.
| Answer | % |
| --- | --- |
| Collard Greens | -.-% |
| Corn | -.-% |
| Cauliflower | -.-% |
| Radish | -.-% |
| Squash | -.-% |