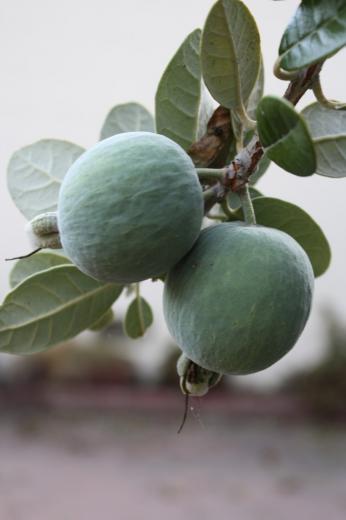 Feijoa
Feijoa is a fruit from an evergreen, perennial shrub that's grown as an ornamental tree. The fruit resembles a pear or guava, with a skin that's dull green in color and rough in texture. Its juicy flesh is divided into a clear gelatinous seed pulp and a firmer opaque flesh. Each fruit has about 20 to 30 small seeds.
The fruit is native to southern Brazil, northern Argentina, western Paraguay and Uruguay where it grows wild in the mountains. Feijoa is nicknamed pineapple guava, Brazilian guava, fig guava, guavasteen in Hawaii and New Zealand banana.
Cultivation of feijoas began in California around 1900. The plant thrives in a subtropical climate with low humidity, and the fruit is harvested from October to December in California.
Feijoa has a sweet and unique flavor that tastes like a mixture of other fruits like strawberry, guava and pineapple. Some people have described it as a mix of pineapple and mint. To enjoy the fruit, peel the inedible skin and then immediately dip the fruit into water containing lemon juice or salt to prevent the flesh from oxidizing (turning brown). Eat the flesh and pulp raw or cook them in puddings, fritters, pastries, cakes or tarts. The fruit can also be made into jam, jelly, relish, sauce, chutney or sparkling wine.
Related Links