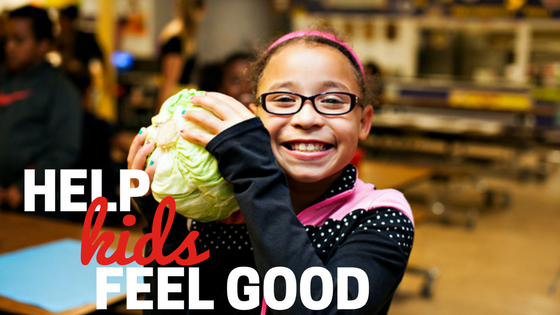 Food Literacy Center's #GivingTuesday Challenge
24 hours to give until it feels good!
Instead of Black Thursday or Cyber Monday, #GivingTuesday is centered on giving back & feeling good!
When our kids feel good, we feel good!
But right now, this isn't happening.
Only 4% of kids eat enough vegetables to protect their health. Poor diets are making our kids sick. 40% of Sacramento kids struggle with childhood obesity.
YOU have the power to prevent this.
On November 28, we will ask community members like you to give until it feels good to reach our goal of raising $6,000 in 24 hours!
How YOU can help
Donate! You can protect kids' health and help them feel good by donating today! Your gift of $180 (that's just $15/month) funds one low-income child to learn cooking, nutrition, and to eat their vegetables.
Share your #FoodLiteracyFeels!
Post a video/photo of yourself on social media sharing why you feel good when you support our mission!
Tag @FoodLiteracyCenter & use the hashtag #FoodLiteracyFeels!
Tag 2 friends & challenge them to share their #FoodliteracyFeels!
#GivingTuesday is an opportunity to be part of something really big— spaghetti squash size!
Thank you for caring and for helping kids feel good by protecting their health!
Related Links