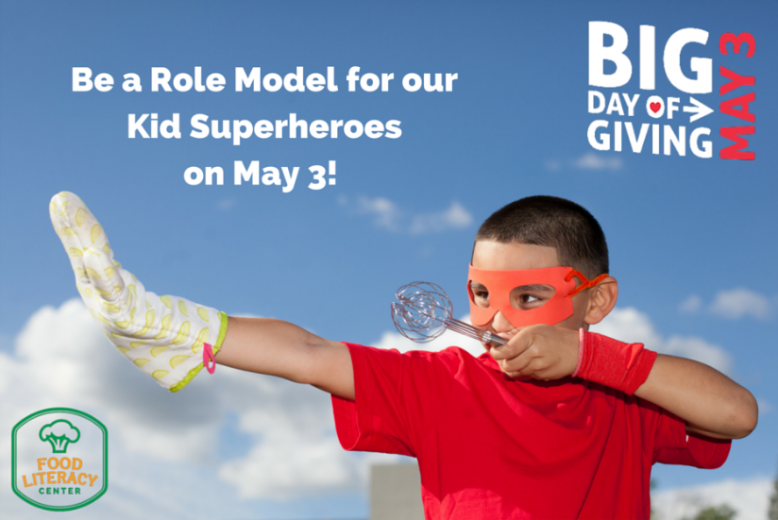 Big Day of Giving 2016
Bok Choy Backflips! We are proud to announce that Food Literacy Center has once again been selected as a partner to participate in the Sacramento Region Community Foundation's annual Big Day of Giving 24-hour online campaign.
On Tuesday, May 3, nonprofits across the region will ask the community to join them in a one-day campaign to give where their heart is. We know you save an important place in your (artichoke) heart for Food Literacy Center, so we're asking you to make an online donation.
Our goal is to raise $16,000 for our kids! Every dollar given on May 3 will be independently matched by Food Literacy Center donors, so your gift is doubled when you donate to help low-income kids learn about healthy eating.
Be a Role Model for Kid Superheroes on May 3! Your donation will help raise the level of philanthropy in our region and turn low-income elementary students into food literacy superheroes.
How YOU can help
Donate
Please give $120 or more to Food Literacy Center to improve our food system at: https://bigdayofgiving.org/npo/food-literacy-center
Spread the word
Tell your friends and networks to save the date. Post on social media—and share our posts on May 3 to help us broaden our reach.
May 3 BIG Day of Giving is an opportunity to be part of something really big—heirloom tomato size!
Your donation of any amount will help raise the level of philanthropy in our region and support a healthy future for low-income elementary students.
Thank you for making our kids a priority!
Thank you to our radish matching donors:
Simply Recipes
Barry & Lynda Keller
Dignity Health
Rabobank
Harbison Estate Wines
Related Links