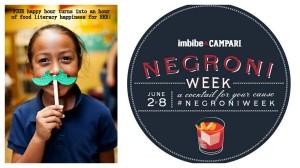 Negroni Week: June 2 to June 8
May 19th, 2014
Save the dates! Negroni Week is June 2 to June 8!
We've lined up events to support this cause and the restaurants who are supporting us!
Wednesday, June 4 from 5 to 8PM at Hot Italian
Join us for a meet and greet! Enjoy a NORCAL NEGRONI (Junipero Gin from San Francisco, Campari, & Cocchi di Torino Vermouth), PICCOLO PIATTO DI SALUMI with local and Italian meats and cheeses, plus 1lb of CONCIME NATURALE (compost!) made by Green Restaurants Alliance Sacramento! Get all for only $20 and 100% of the net proceeds benefits Food Literacy Center! For more details and to share on Facebook, click here.
Thursday, June 5 from 6 to 8pm at Ella (in the lounge)
Calling all volunteers! Let's hang out! We never get to see all your smiling faces at one time. Let's get together, support Ella, and purchase a Negroni to benefit food literacy. Food will also be available for purchase.
If you're heading out for a drink during Negroni Week, we hope you'll choose one of these participating restaurants in the Sacramento region to support cooking and nutrition education for low-income kids.
Participating restaurants supporting Food Literacy Center:
Biba
Capitol Garage
Ella Dining Room and Bar
Field House American Sports Pub
Foundation Restaurant & Bar
Hock Farm
Hook & Ladder Manufacturing Company
Hot Italian
Il Forno Classico
Low Brau
Scott's Seafood
Shady Lady Saloon
The Golden Bear
The Porch Restaurant and Bar
Related Links