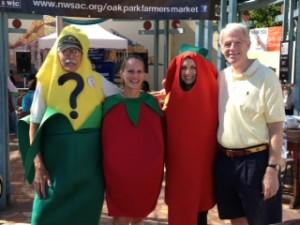 Food Literacy Fair
July 31st, 2014
Food Literacy Center and Assemblymember Roger Dickinson are hosting a free food literacy fair at Southside Park on Sunday, September 14th from 9 am – 1 pm in partnership with the Southside Park Neighborhood Association. They will announce Food Literacy Hero Award winners to community members who have worked to improve food literacy education in their community, followed by a food demonstration featuring the winner of the "Veggie of the Year" contest.
At the fair, attendees will have fun learning about food from the ground up and how to make more informed food choices that are good for people and the planet. The event will feature live music, live cooking demonstrations featuring local chefs, crafts and kids games, local chefs, free food samples, live farm animals , and a Veggie of the Year Contest!
Dickinson and Food Literacy Center partnered on Assembly Concurrent Resolution 161 (2012), which established every September as Food Literacy Awareness month in California.
For questions, or to inquire about tabling opportunities, please visit the Facebook event page!
Related Links