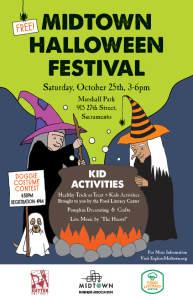 EVENT CANCELLED: Midtown Healthy Halloween
October 20th, 2014
This event has been cancelled due to likely rain showers.
Food Literacy Center has partnered with the Midtown Business Association and Sutter District again to bring Healthy Halloween festivities to Midtown. Families are invited to join us on Saturday, October 25th from 3 – 6 pm at Marshall Park (915 27th St, between 28th and J St.) for a free festival with kids' activities like face painting, animal balloon making ad trick-or-treat bag making. Food Literacy Center will put the healthy in Healthy Halloween with snacks like popcorn & apples as well as kids' crafts and a photo booth. The festival will also feature a bounce house, squash bowling and a live performance by The Hoots!
There will also be a Pooch Parade for the four legged members of your family to get in on the Halloween fun! The Pooch parade will conclude with a dog costume contest with prizes for the winners, including a fruit & veggie category. The Pooch Parade and Doggie Costume Contest registration will open at 4 p.m. on the day of the festival and the contest itself will begin at 4:30 p.m.
For more information or the RSVP visit the Facebook event page.
Related Links