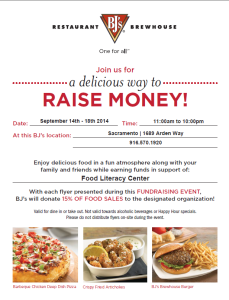 Dine for Charity at BJ's Restaurant & Brewery
August 19th, 2014
BJ's Restaurant & Brewery has a delicious way to raise money!
When: Sunday September 14 to Thursday September 18, 11:00AM – 10:00PM
Where: BJ's Restaurant & Brewery, 1689 Arden Way, Sacramento
What: 15% of food sales donated to Food Literacy Center with our flyer!
Join us for food and fun to support Food Literacy Center!
Flyers must be printed. Valid at Arden Way location only.
Related Links