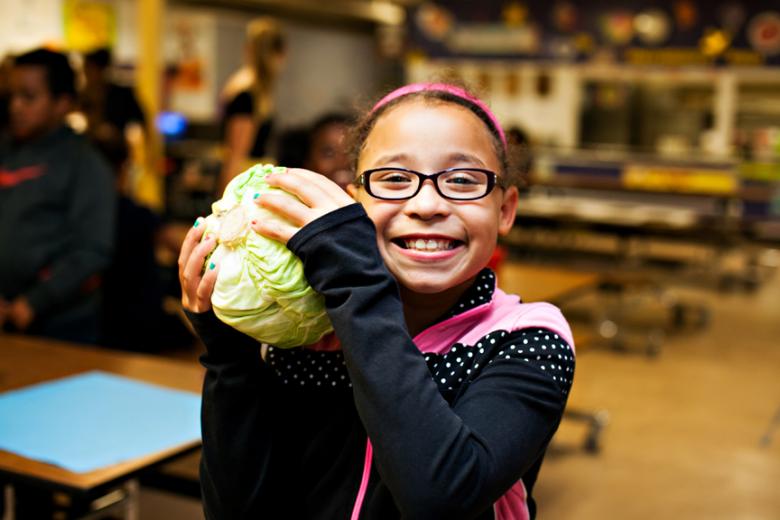 Tomorrow's a Big Day for You & Our Kids
Giving Tuesday - December 1, 2015
Tomorrow is Giving Tuesday! Let's get ready to rutabaga!
This is a chance for you to bring food literacy education to more low-income kids!
For just $120 (that's only $10/month), you can support food literacy education for one student. Get ready to donate tomorrow for Giving Tuesday!
These kids need food literacy, and we need you!
A full 75% of our dollars are donated by YOU, caring individuals who share our vegetable-based values. Only 18% of our funds come from grants, like the Farm to School grant we just won. We truly rely on you to make this work possible.
Kids in our program learn to cook from the earliest age. Studies show that getting kids excited about vegetables while they're young has positive lifelong results on their health. We're investing today in a healthier future for our most vulnerable kids. Low-income and minority students have the highest risk for diet-related diseases, including childhood obesity. We're doing something about this!
Stand with us tomorrow and fight for our kids' health!
There's been a big drop in vegetable consumption among kids. This year, it dropped from an already-low 6% to just 4%!
At Food Literacy Center, we're reversing these numbers! Over 90% of our kids eat a variety of fruits and veggies while they're with us. We see a nearly 50% increase in their fruit and veggie consumption from the time they start our classes.
Let's keep reaching more kids! Let's change the statistics on child health for the better!
Our goal is to raise $5,000 tomorrow. That's the cost to bring one class of elementary students our proven solution: cooking and nutrition education that inspires kids to eat their veggies.
Giving Tuesday: the day we make history in favor of kids' health!
Related Links