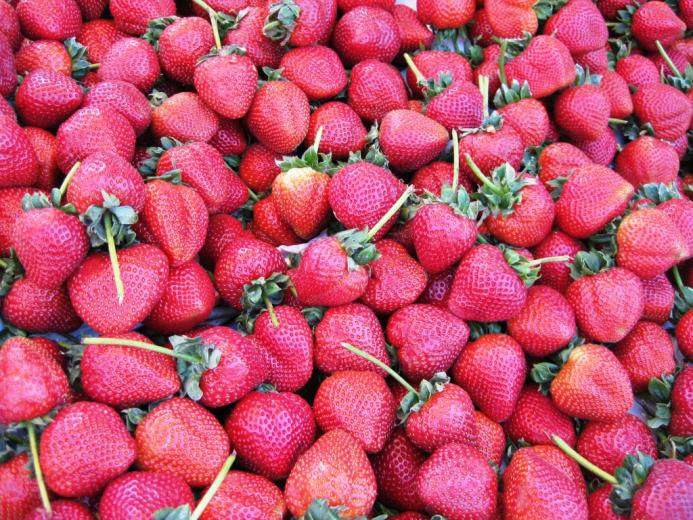 Spring into California's Tasty Travel Spots
One of the biggest joys of traveling, as I have learned through my own experiences, is the opportunity to taste the local food grown, harvested or caught in that particular region. I usually seek out farmers' markets wherever I visit, and if I plan ahead, I tend to visit when there is a particular food festival.
If you are planning a road trip in California, there are several awesome spring food festivals celebrating local and seasonal treats that will whet your appetite! Below is a list of popular California food festivals:
April 15, Fallbrook
Celebrating the locally grown avocado, this festival showcases the green wonder at the festival's farmers' market, agriculture, culinary demonstrations, guacamole contest and art contest. There will be a children's car race, agricultural displays along the streets, and dishes featuring avocadoes such as avocado ice cream and guacamole.
April 21, Chico
This festival pays tribute to California's nut cultivation and production, and Chico's rich agricultural history. The festival includes farm-fresh food samplings, live music on two stages, an art show, cooking demonstrations, and wine and beer samplings. Proceeds benefit the Historic Patrick Ranch Museum, a restored mansion and working farm managed by the Far West Heritage Association.
April 27-29, Stockton
Locally grown asparagus is the highlight of this festival. This hearty, delicious and nutritious vegetable is featured in a plethora of dishes from burritos, pastas, and sandwiches. Enjoy cooking demonstrations, live music, carnival rides, kids' activities, local art and wine tasting opportunities from regional wineries.
Sonoma Coast by Heather Teoh
39th Annual Bodega Bay Fisherman's Festival
April 28-29, Bodega Bay
Celebrating the start of the salmon fishing season, the festival features craft booths, live music, wine tasting from more than 25 Sonoma county wineries, and food booths serving BBQ oysters, local fish and chips, clam chowder, snacks, and vegetarian dishes.
33rd Annual Selma Raisin Festival
May 2-6, Selma
Selma, or the "Raisin Capital of the World," pays tribute to this nutritious dried fruit with a carnival, entertainment, pageant, crafts, arts competition, baked goods, floriculture displays, photography exhibits and poetry reading.
May 18-20, Monterey Bay Aquarium
Sustainable seafood is the main focus of this two day culinary event. Enjoy a culinary experience with more than 70 of the finest chefs in North America. There will be a gala on Friday, small group Food & Wine Adventures, and a Sustainable Seafood Challenge. Discover ways to save the oceans while enjoying a gastronomic adventure.
17th Annual Galt Strawberry Festival
May 19, Galt
The delightful fruit is celebrated with live entertainment, more than 30 strawberry food items, pageants, dog show, arts and crafts, and a car and bike show.
53rd Annual Artichoke Festival
May 19-20, Castroville
Taste the artichoke in a plethora of ways: fried, sautéed, grilled, marinated, pickled, fresh, and creamed in soup, as well as prepared in many cultural styles. There also will be an agro art competition, parade, live entertainment, children's activities, cooking demonstrations, wine tastings, arts and crafts, farmers' market, and field tours to the artichoke patch.
California Strawberry Festival
May 19-20, Oxnard
Benefitting more than 20 Southland charities, the California Strawberry Festival serves up an arts and crafts exhibition, a strawberry pie eating competition, live music, children's activities, celebrity cooking demonstrations, and, of course, more than 50 food booths featuring strawberries in a variety of dishes and drinks.
Garden Grove Strawberry Festival
May 25-28, Garden Grove
Honoring first responders, this festival features a parade with celebrity grand marshals, carnival rides, live music, pageants, and an assortment of strawberry treats.
Arroyo Grande Strawberry Festival
May 26-27, Arroyo Grande
This premiere festival in the Central Coast presents a Strawberry Stampede walk/run, strawberry pancake breakfast, kids' activities, arts and crafts, live music, and a variety of strawberry delights.
Happy road tripping and bon appetit!
Article by Heather Teoh
Related Links