Spinning Plates– The Premiere Event!
The premier event of our upcoming Sacramento Film Festival is the award winning Spinning Plates. Don't miss out on this red carpet event, hosted at Ten22 restaurant. It's an honor that the promoters agreed to have the film included in this festival!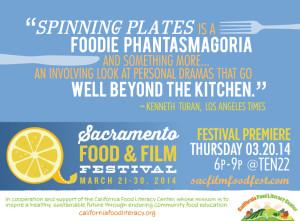 The "who's who" of the Sacramento food scene will be in attendance – even our very own Kid Chef Aidan! Aidan will be assisting Chef Jay of Ten22, who will be preparing a menu using the best local ingredients from Passmore Ranch and Farm Fresh to You.
The festivities will include a photo booth to capture the moment, so dress festively (of course that's half the fun)! The first 150 guests will go home with amazing swag bags featuring Ramos Oil olive oil, Beanilla vanilla beans, Chocolate Fish Coffee and other tasty treats!
Get your tickets, and come enjoy *the* food film of the year. We hope to see you there!
Special thanks to the sponsors: Kaiser Permanente, Simply Recipes, Ten22, Passmore Ranch, Farm Fresh to You, Pomegranate Design, Capital Public Radio, Dinner Wire, Yelp, Selland Family Restaurants, Farm to Fork
Related Links