Fund a School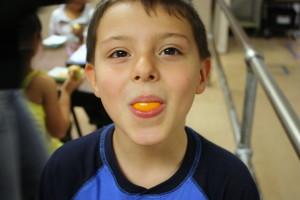 Help us bring food literacy education to EVERY school!
We want to teach in 5 new schools by January, reaching 500 more kids. But we can't do it without your support.
Between now and December 31, help us raise $26,715. It costs us $4.11 per child per week to deliver food literacy education for FREE to local schools.
Please make a donation today to bring food literacy education to EVERY school.
RESULTS
Read about Matthew, who has grown a love of vegetables through our food literacy classes. This is critical in the work to prevent childhood obesity:
Program evaluation results show that after only three months in the program 90% of kids say healthy food tastes good. 70% of kids ask their families for the foods they eat in class, like broccoli and celery.
Our mission is to inspire change today for a healthy, sustainable tomorrow through enduring community food education.
Please donate today to bring food education to more kids like Matthew.
FOOD EDUCATION
At California Food Literacy Center, we believe food education should be fun. We help kids develop healthy eating habits while they're young in an effort to combat the 40% childhood obesity rate in Sacramento.
Our 501c3 nonprofit reaches 2,400 kids per year with food literacy education. We teach kids how to cook, about nutrition, and where their food comes from.
Our curriculum was developed by a team of experts in low-income education, nutrition, food systems, public health and nonprofit.
OUR TEACHERS
Our trained Food Literacy Advocates have completed 10 weeks of training on topics of nutrition, cooking with students, classroom management, education best practices, our local food system, and food and our planet. They are background checked and hold Food Handler safety certificates.
We target our programs on low-income schools where 75% or more of the students are enrolled in free or reduced lunch.
We hope you will donate now and help us bring food literacy education to more children by funding a school!
Related Links