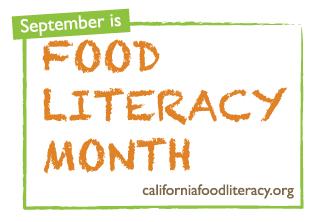 Food Literacy Month 2013
55 area restaurants have signed up to participate in this awareness & fundraising event to benefit California Food Literacy Center. For the month, participating restaurants will add a voluntary dollar to every ticket. 100% of funds will reach more children with food literacy education.
We encourage folks who choose to dine out during September to choose an EatSMART restaurant and support food literacy. Here are the participating restaurants.
September 1-30: Online Fundraiser:
Log on and donate! Attune Foods will match every dollar donated up to $2,500, so your gift is doubled when you donate to help low-income kids learn about healthy eating.
September 1 – 30: Nickels for Nonprofits:
Whole Foods Sacramento and Whole Foods Roseville have selected California Food Literacy Center as the beneficiary of their Nickels for Nonprofits program through the end of September. If you bring a reusable bag when shopping at these stores, you can choose to donate a nickel to support our cause. If everyone helps, we could raise $2,000 per store!
September 7: Kids' Recipes Contest launch and Food Literacy Fair at Midtown Farmers Market with Assemblymember Roger Dickinson.
Sacramento County and City will follow the state's lead and declare September Food Literacy Month. We're celebrating at the Midtown Farmers Market!
We're launching our Kids' Recipe Contest sponsored by Simply Recipes and announcing the Veggie of the Year, chosen by our K-5th graders at Capitol Heights Academy, which will be the featured vegetable for the recipe contest.
The recipe contest will run through the month of September. In early October a team of local chefs and food writers will select the winning recipes. Thanks to our sponsor, SimplyRecipes.com.
September 14: "60 Faces of our Food Culture" exhibit on Saturday, Sept 14, from 6 to 8 p.m. at Sunh Fish
The Sacramento region's rich food culture is captured in the photography series "Sacramento Farmers and Chefs" by Janine Mapurunga. The larger-than-life portraits of 30 farmers and 30 chefs, including California Food Literacy Center's Amber Stott will premiere at the "60 Faces of our Food Culture" exhibit. Tickets are $20 and proceeds will benefit California Food Literacy Center. Get your tickets today!
September 14: Food Literacy Fair at Woodland Farmers Market
We celebrate the resolution that Yolo County passed last Monday to declare September Food Literacy Month.
September 17: Whole Foods Market Sacramento Food Truck Pop-Up
Whole Foods Market, 4315 Arden Way, from 5 – 8 p.m.
Featuring Fuzion Eats, Orale Mole, Big Red Bus, Sun Pizza and Papa Dale's.
5% of food truck sales benefit California Food Literacy Center and Nickels for Nonprofit bag credits will be doubled during the event.
For more info: Whole Foods Market Food Truck Pop Up
September 20: Farm to Fork Week's opening reception at Sacramento River Water Intake Structure
Thank you to The Selland Group for choosing us as the beneficiary for the opening reception of Farm to Fork Week! The event is sold out and we're excited to be a part of the celebrations.
September 28: Farm to Fork Week Festival.
We'll be partnering with Sacramento Junior League and Health Education Council to host a series of smoothie bike races: kids versus chefs–all featuring locally grown farm ingredients, of course.
Related Links