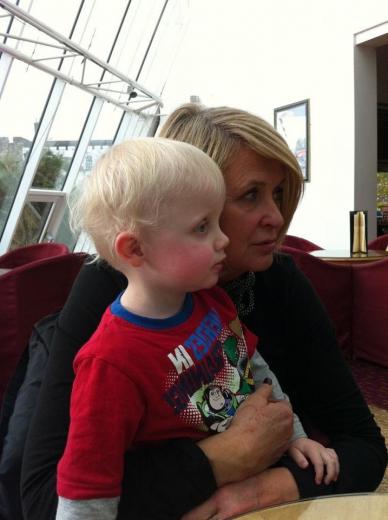 Food Literacy Hero: Peg Tomlinson-Poswall
Her love of food and her passion for community activism make Peg Tomlinson-Poswall the perfect food literacy hero! The food consultant, writer, and activist is a board member of California Food Literacy Center and has provided invaluable advice, support and enthusiasm for our young nonprofit. We are certainly very fortunate to have Peg on board!
At an early age, Peg learned how to cook from her mother, who made everything from scratch, from bread and homemade jam to noodles. Always the entertainer, Peg would pretend to give cooking lessons when she was in the kitchen cooking, and had her family try various dishes she made from recipes in Seventeen Magazine.
"My experiences of sitting around the table with family – eating, sharing and laughing is what has had the most lasting influence on me," said Peg. "I think problems get solved around a table. I think love happens around a table."
In the 90s, Peg's love for food led her to open Food for Thought, an eclectic eatery that served simple yet delectable fare. In fact, she said that the person who had the greatest influence on her cooking was Julie Smith, the chef who worked at her restaurant. It was the first time that Peg understood the theory of clean, bright food. Another strong influence in Peg's culinary life is Diana Kennedy, renowned cookbook author of "The Art of Mexican Cooking," who has been called the Julia Child of Mexican cuisine. Kennedy has pushed Peg to perfect her talent–and for anyone who has eaten Peg's food, her delicious success shines through.
Peg combines food with community activism by hosting countless dinners at her home to raise funds for nonprofits in Sacramento. Twenty years ago, she created a fundraiser called Food for Tots by getting chefs in Sacramento to cook a course for the dinner. Beyond fundraising, Peg's strong instincts have helped people collaborate on ideas to solve problems in the community.
Practicing what she preaches, Peg teaches food literacy at home. She shops at the farmers' market twice a week and supports local farmers. "I have dragged unsuspecting people through the market to introduce them to who I think has the best stuff!"
Peg joined California Food Literacy Center's board in October 2012. "Peg was the first person I told about creating this nonprofit," says California Food Literacy Center founder, Amber Stott. "Her passion and tireless energy are inspiring! She and her husband, John, are always ready with sage advice, nudging the agency in better and bigger directions. I'm honored to have Peg's dynamic leadership on our board!"
Food literacy is a passion for Peg because she is concerned with and shocked at the types of food people are eating these days. She believes in Amber's vision of educating children on food literacy, and thus making a difference in their lives.
"If we can catch them early and teach them that food is medicine, then we might have a chance of changing the direction this world is going in," Peg said.
Article by Heather Teoh.
Related Links