Cafeteria Man at Sacramento Food Film Festival
Cafeteria Man, another headliner at the Sacramento Food Film Festival, features Chef Tony Geraci taking a grass roots approach by implementing food literacy concepts into the school lunch system. He introduces the kids and staff to fresh, healthy meals featuring locally grown produce.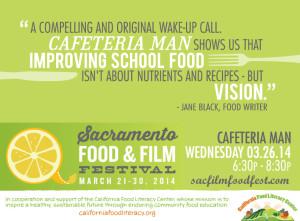 Enjoy the movie with popcorn made by our food literacy kids! After the movie, a panel discussion will be held, discussing community involvement in school food. Panelists include Amber Stott, California Food Literacy Center; Shannon Hardwicke, Soil Born Farms; Brenda Padilla, Sacramento City Unified School District; & a local farmer providing food directly to local schools.
And I saved the best detail for last: Chef Geraci himself will be in attendance! Meet this school lunch hero and listen to his inspiring keynote address.
The film has been called "A compelling and original wake-up call. Cafeteria Man shows us that improving school food isn't about nutrients and recipes — but vision."
Join leaders in Sacramento's healthy food movement, including local elected officials, school nutrition staff and nonprofit food policy advocates.
The event is free, so simply reserve your tickets, and come join us. Bring your kids and show them there is hope for cafeteria lunch!
Thank you to Kaiser Permanente, Selland Family Restaurants and to Sacramento Natural Foods Co-op for making this event possible!
Buy tickets now for the festival's other events here.
Related Links