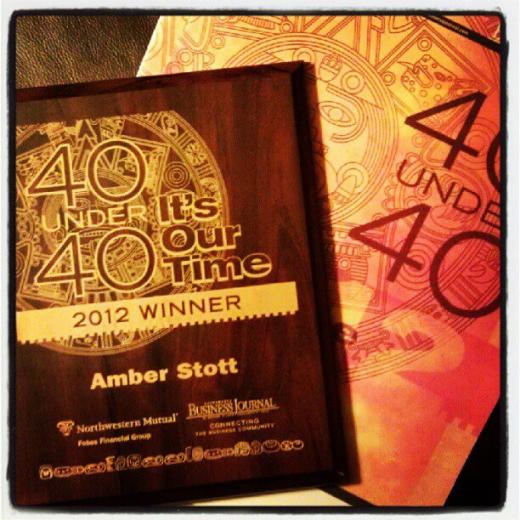 40 Under 40 in Sacramento: Our very own Amber Stott!
Amber Stott, founder of California Food Literacy Center, last week was named one of Sacramento Business Journal's 40 under 40 at a standing room only gathering at Cafeteria 15L!
Over the summer and fall, Sacramento Business Journal collected more than 200 nominations – the most they have ever collected. They narrowed the nominees to 100 finalists before announcing the winners at the special event. A panel of outside judges chose the 40 winners whose ages ranged from 27 to 39, and who are working in business, government and nonprofit organizations.
Amber impressed judges with her 12 years of management in the nonprofit sector that culminated in her founding of California Food Literacy Center. Over the past 12 years, Amber has worked tirelessly to help further the cause for nonprofits including Freedom from Hunger and Women's Empowerment. Her love for cooking, gardening and local food led her to create the popular blog Awake At the Whisk. She then realized that there is a gap in the current food system—a lack of food literacy education. After months of intense research and strategic planning, California Food Literacy was born!
In just a short year, our organization have churned out amazing achievements, thanks to Amber's passion, hard work and leadership, and the support of board members, program committee and volunteers. Amber developed a fun and approachable food literacy curriculum and with the help of volunteers, teaches 100 K-5 grade students at Capitol Heights Academy in Oak Park once a week. Based on evaluation results, nearly 100% of kids say healthy food tastes good and 88% now know how to read a nutrition label!
September was an exciting month for us. We collaborated with the California State Legislature to pass a joint Senate and Assembly resolution, ACR-161, declaring September Food Literacy Month in California. The community rallied their support. Ten local restaurants featured "Food Literacy Sandwiches" on their menus, kids submitted their recipes for a contest, and bloggers nationwide posted healthy sandwich recipes.
Amber wants our organization to go even further to create an army of food geniuses through a training academy for community members! We will train them to deliver our curriculum throughout the Sacramento area and the state.
At the 40 under 40 event, the winners were asked to give a 10-word "acceptance speech." Amber said, "I would like to thank my parents for encouraging me to eat my green beans!"
We are so proud of Amber for winning this award and grateful for Sacramento business leaders for recognizing all her efforts, passion and dedication in developing California Food Literacy Center. This award helps cement our footprint in the Sacramento region and recognizes our contribution to the community.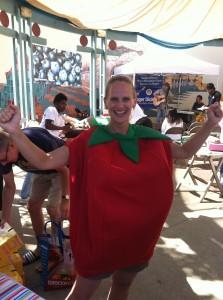 Every week, we teach our students fun facts about various fruits and vegetables. Today, we're going to give you some fun facts about Amber:
She can speak Zulu!
Her first job was a paper route.
Her favorite gadget is a whisk.
Best advice she was given was "eat your vegetables" by her parents!
Related Links