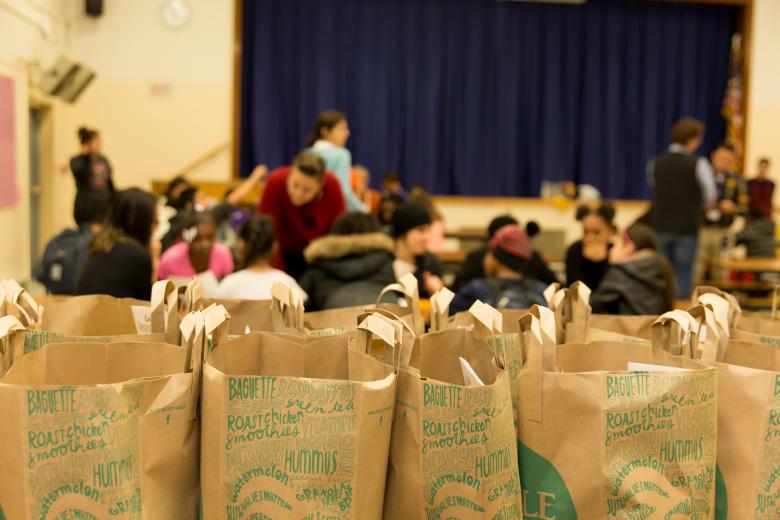 Community's Generosity Sets Record for Holiday Produce Drive
Happy Kids Go Home with 30 pieces of Produce for the Holidays
Carrot Cartwheels! With the help of Sacramento area residents, we raised 7,200 fresh fruits and vegetables to send students home with the recommended daily serving of fruits & vegetables during the long holiday break.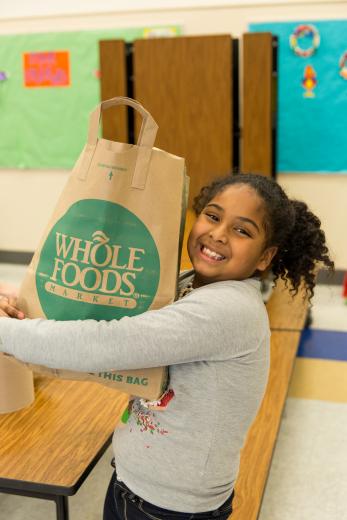 Rain or shine, volunteers and staff were dressed in colorful vegetable costumes ready to accept donations of produce at Whole Foods Market locations in Sacramento and Roseville. Unfortunately, due to heavy winds and rain the Sacramento location was forced to close their doors for an hour meaning families and individuals couldn't purchase fruits and vegetables to donate to our students.
With the help of social media and press coverage, we were able to communicate our need to the community and they rose to the occasion. Within 5 hours we made up for lost time raising over 3,000 lbs. of produce and setting a Holiday Produce Drive record!
"We are pomegranate proud of our community for stepping up in a big way for our kids," said Chief Food Genius Amber Stott. "By sending these kids home with fruits and vegetables over the long holiday break, they can continue to practice the healthy habits and cooking that we have taught them in food literacy class."
After food literacy class yesterday, we sent each of the students home with 30 fruits and vegetables – five servings for six days. We were able to raise enough to give each kid an additional days' worth of 5 servings of fruits and vegetables thanks to the generosity of our community.
In a school where 93.1% of the children use the free and reduced lunch program, the need for these healthy veggies is high. In fact, one of the students, after picking out her bag of produce, joyously exclaimed, "My mom is going to be so happy. We don't have any fruits or vegetables at home."
We do our part to teach them healthy habits throughout the school year, and want to help them succeed at practicing healthy eating and cooking at home, too.
In addition to a bag full of fruits and vegetables, each student received a copy of the cookbook Good and Cheap by Leanne Brown. The cookbook is designed to help people with limited incomes, particularly those living on a SNAP/Food Stamp budget of $4 per day, to eat healthier and cook more often - similar to the approach to cooking they learn in our program.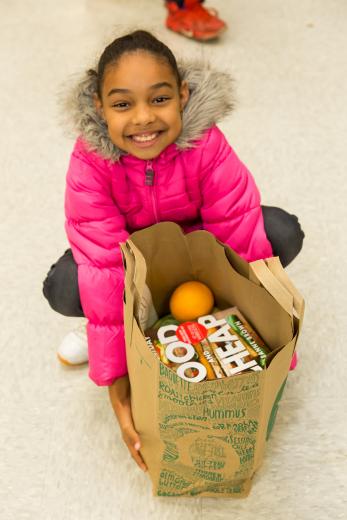 Author Leanne Brown is a strong believer in food literacy and the importance of learning to cook young.
"To kids cooking is still magic and there is nothing more empowering and exciting than being able to do magic yourself! Especially when the result is delicious food," said Brown. "Giving kids the skills they need to have success in the kitchen, to make a meal for themselves or their family, is so powerful. It makes them into heroes for their families!"
This Holiday Produce Drive was made possible by the generosity of the Sacramento community! We want to especially thank Whole Foods Market Sacramento and Roseville locations for hosting our event, Brian Bennett of Paul Martin's Restaurants, Erin Alderson, Farm Fresh to You, Golden One Credit Union, Marita Madeloni, Produce Express, Soil Born Farm's Harvest Sacramento, and the countless community members and volunteers who made this possible!
Photos by Marita Madeloni of Madeloni Photography.
Related Links