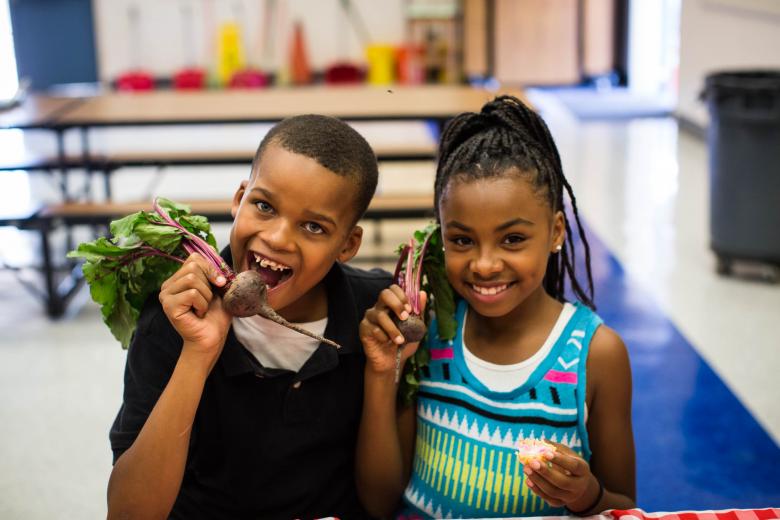 Raley's Doubles Down on Afterschool Food Literacy Programming at Leataata Floyd Elementary
$15,000 donation will support cooking and nutrition classes for 90 students weekly for the 2016-2017 school year
FOR IMMEDIATE RELEASE
Raley's Doubles Downs on Afterschool Food Literacy Programming at Leataata Floyd Elementary
$15,000 donation will support cooking and nutrition classes for 90 students weekly for the 2016-2017 school year
Sacramento, Calif. (August 23, 2016) – Food Literacy Center is delighted to announce that Raley's Family of Fine Stores will sponsor the after-school program at Leataata Floyd Elementary for the second year in a row. The program will provide free cooking and nutrition classes to students, expanding on Food Literacy Center's mission to inspire kids to eat their vegetables. The $15,000 will enable Food Literacy Center to serve 90 children weekly for the 2016-2017 school year in the Sacramento City Unified School District.
"We're heirloom tomato thrilled to partner once again with Raley's to bring additional food literacy education to Leataata, " said Amber Stott, Founder and Executive Director of Food Literacy Center. "Food Literacy Center is only able to expand to new schools once funding has been secured from the community because we provide our programs at no cost to the schools. Raley's commitment to wellness fits our mission perfectly, creating a real win-win for the community."
Sponsorship of the food literacy after school program is part of Raley's ongoing commitment to supporting healthy food choices.
"As a local grocer, Raley's wants to connect students with fresh and healthy food. Children who participate in the Food Literacy Center have an enriched understanding of fruits and veggies and are more likely to create healthy habits long-term", said Becca Whitman, Raley's Manager of Community Relations. "We believe in the work of the Food Literacy Center and are thrilled to support Leataata Floyd after-school program."
Today's announcement is the latest in a series of initiatives to promote health and wellness in the community. Raley's recently announced its decision to eliminate certain Raley's private-label brand soda, which included all flavors containing high-fructose corn syrup and artificial colors and flavors. They also eliminated tobacco sales from its stores in 2015.
Food Literacy Center began afterschool programming at the elementary school in 2015, and, thanks to funding from Raley's, will continue to provide food literacy curriculum, including cooking and nutrition classes such as the fruit and vegetable appreciation, during the 2017 school year.
# # #
About Food Literacy Center
Food Literacy Center is a nonprofit 501(c)(3) established in 2011 in Sacramento, California, with the mission of inspiring kids to eat their vegetables. They teach low-income elementary children cooking and nutrition to improve health, environment and economy. The organization provides free after school programming at 7+ schools throughout the Sacramento County Unified School District. For more information about Food Literacy Center, visit http://www.foodliteracycenter.org/.
About Raley's Family of Fine Stores
Raley's is a privately owned, family operated supermarket chain with headquarters in West Sacramento, CA. The company operates 122 stores in Northern California and Nevada under four banners: Raley's Supermarkets, Bel Air Markets, Nob Hill Foods and Food Source. Raley's was founded in 1935 by Tom Raley and is a major grocery chain best known for high quality products, fresh produce, fine meats and outstanding customer service. Raley's strives to make its customers' lives easier and better by delivering a personalized food shopping experience. For more information, visit www.raleys.com.
CONTACT:
Amber Stott, Founding Executive Director
Mobile: (916) 873-2025; E-mail: amber@foodliteracycenter.org
Related Links