Recipe
By: Executive Chef Kurt Spataro, Cafe Bernardo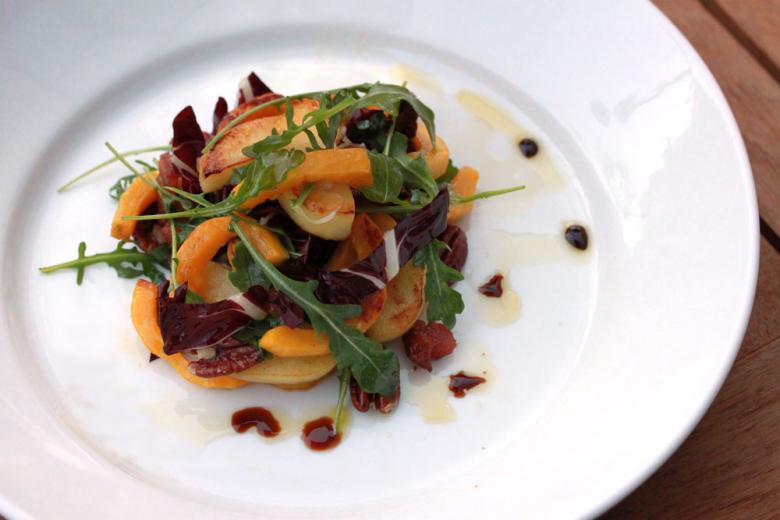 Roasted Delicata Squash Salad Recipe
This beautiful and mouth-watering squash salad comes to us courtesy of Chef Kurt Spataro of Paragary's Bar & Oven.  This salad has a balance of sweet, savory and tart flavors, as well as the balance of textures. You'll experience an explosion of flavors in just one bite!
Paragary's Bar & Oven is one of the more than 60 restaurants participating in our EatSMART fundraising campaign. Dine and donate this September to support our food literacy programs.
Roasted Delicata Squash Salad Recipe
Ingredients:
1 medium Delicata squash, peeled, seeded, and halved lengthwise
1 apple, peeled, cored and cut into 1/4" slices
1/4 cup bacon, cut into 1/4" batons
2 Tbsp pecans, toasted
1/2 cup sliced radicchio
1 small shallot, sliced
1 Tbsp White Balsamic Vinegar
3 Tbsp extra virgin olive oil
Canola Oil for cooking
Instructions:
Cook bacon until fat renders and bacon has nicely browned. The bacon should have a chewy texture after cooking.
Saute the apple slices in the canola oil until lightly browned. Toss the squash in 1 Tbsp of the olive oil and season with salt and pepper.
Roast the squash on a baking sheet in a 400 degree oven until lightly browned and tender, about 20 minutes. Meanwhile, pour off the bacon fat from the sauté pan and add the shallot. Cook briefly to soften. Add the vinegar and remaining olive oil to warm.
In a mixing bowl, gently toss the ingredients together and season with salt and freshly ground pepper. Arrange the salads on two serving plates and serve.
Recipe and Photo courtesy of Executive Chef Kurt Spataro of Paragary's Bar & Oven
Hello! We hope you made and enjoyed this recipe from our Your Sandwich Can Save the World! Food Literacy Curriculum! Please note that all photos and content are copyright protected. Please do not use our photos without prior written permission. If you wish to republish this recipe, please rewrite the recipe in your own unique words and link back to on Food Literacy Center's website. Thank you!
© 2016 Food Literacy Center. All rights reserved. Do not copy or share without written permission.
Related Links