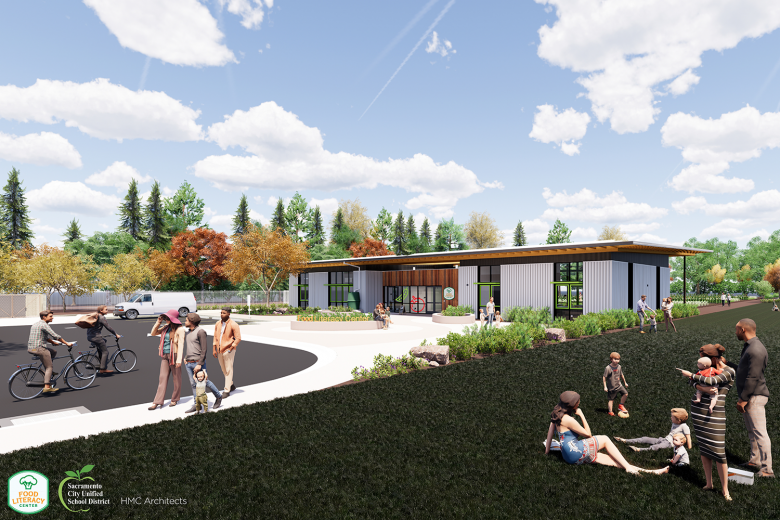 Background Information
Our Center
Food Literacy Center currently operates out of a small, rented house. Our program resembles pop-up catering: we bring our food and cooking supplies to school cafeterias, where we set up temporary cooking and nutrition classes for elementary students. As a young nonprofit, we don't have a "center" where the community can come to us to cook–yet!
Future Cooking School & Broccoli Headquarters
In 2016, the Sacramento City Unified School District voted unanimously for our nonprofit to manage a cooking school and student-run gardens on 2.5 acres on their Leataata Floyd Elementary campus. The school district will build the facility with fees specifically designated for this project by the developer of The Mill at Broadway, which neighbors the school campus.
Elementary Student-Run Gardens
The city and school district call this project "Floyd Farms." Yet, don't picture giant rows of corn growing neatly. These 2.5-acres are better described as "gardens" than a farm. After all, elementary students will be running it. We call it "Broccoli HQ!"
Broccoli HQ
This state-of-the-art, green facility being built will include:
Cooking School, where 30+ students will learn to cook healthy meals.
Prep Kitchen, where our staff and volunteers will prep food and cooking supplies for after school programs across the school district focused on Title 1 schools.
Training & Office Space, where our staff will train future instructors of our curriculum, and manage the day-to-day operations of this 2.5-acre facility that will reach over 1,000 students/week.
Additionally, the property will include gardens, where elementary students will grow fruits, veggies, and herbs, much of which will be used for the cooking program.
Programs
The "Broccoli HQ" will allow Food Literacy Center to:
Serve elementary school students in afterschool programs throughout SCUSD.
Serve students at Leataata Floyd Elementary with school day curriculum in cooking and gardening.
Expand food literacy programming to reach more schools throughout the district.
Provide community and family cooking classes to the public.
Implement cooking and nutrition classes such as food science, biology, history, and culture through cuisine
Provide garden education including plant biology, and compost.
"Having a well-established food literacy program like Food Literacy Center is critical to the success of the Leataata Floyd Farms Project. Amber and her team have built a strong, academically challenging curriculum and with the added resources of a farm and access to students throughout the day more of our students can benefit from this outstanding program."

-Jay Hansen, Sacramento Unified School District board member
Supporters
Thank you to The Mill at Broadway and the Setzer Family Foundation for each providing $100,000 over five years as a startup donation to seed the project! Additionally, thanks to Raley's Family of Fine Stores for providing funding to our organization since 2015 to deliver afterschool programming at the elementary school.
Alice Waters - Letter of Support
Dawnie Andrak - Letter of Support
Edible Schoolyard - Letter of Support
Healthy Food Task Force - Letter of Support
Raley's - Letter of Support
Selland Family Restaurants - Letter of Support
Slow Food Sacramento - Letter of Support
Sun & Soil - Letter of Support
Valley Vision - Letter of Support
To learn more about the project, email Amber Stott, CEO.
Related Links