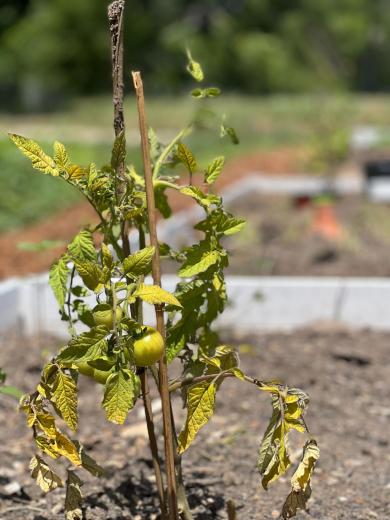 Garden Volunteer Days
Join us in building out our 1-acre student garden and farm behind our cooking school in an urban lot that was once vacant!
The open space was designed to improve health outcomes for children by teaching students how to grow their own food. It will be a place for students and families to learn, play, and explore. Your honeydew-help will get us closer to our goal of providing locally grown food to residents of an area categorized as a food desert.
Please review our available slots:
Summertime Dates:
Saturday June 17th from 9am – 12pm
Saturday July 22th from 9am – 12pm
Saturday August 19th from 9am – 12pm
This opportunity is available to all onboarded volunteers. Unsure of your volunteer status? Email us at volunteer@foodliteracycenter.org to find out what opportunities you are eligible for.
Volunteer opportunities may include: sheet mulching, moving wood chips, building/relocating garden beds, starting vegetable seeds, transplanting seedlings, tending to compost piles, weeding, pruning perennial plants, watering plants, and other general garden chores. We have enough tools and gloves for everyone, but if you have a favorite pair of gardening gloves feel free to bring them!
Got Plants? We encourage you to bring donations of items that can be reused like plant cuttings, garden pots, garden seeds, and cardboard.
Please protect yourself from the sun. Both sunscreen and hats are recommended, as well as bringing a reusable water bottle. We have water fountains and a restroom available on site. Please take frequent water breaks and stay hydrated!
SIGN UP to help us realize our 1-acre student garden and farm.
Related Links