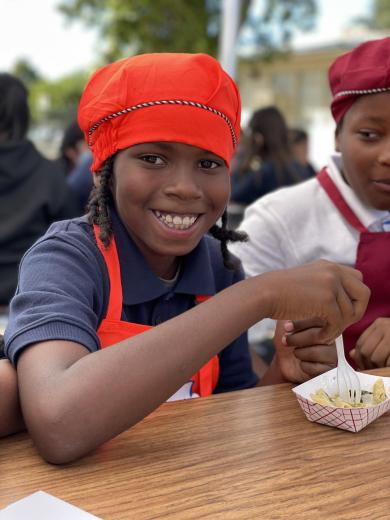 Food Literacy Month
September 2023
In 2012, Food Literacy Center worked with the California Legislature to pass a resolution declaring September Food Literacy Month — a time to raise statewide awareness about the need for cooking and nutrition education for kids. In 2013, Yolo County, Sacramento County, and City of Sacramento also passed our resolution. In 2015, the State of Washington passed a resolution inspired by the California resolution we championed.
That's a fig deal!
The annual campaign begins online and on social media and email newsletters but extends far and wide, earning media and reaching our partners across 20 Robla and Sacramento City Unified School District schools as well as thousands of local foodies, donors, and families.
Now in our 11th year, Food Literacy Month is our largest and most widely celebrated event that includes a month-long campaign to support food literacy education and the wildly popular Veggie of the Year competition that pits some of the region's most talented and notable chefs against each other to create the tastiest veggie-forward bite and for tough critics — kids!
The berry best part of food literacy month?
Veggie of the Year Chef Competition!
This competition is a feel-good way to support our mission to inspire kids to eat their vegetables and support our local farmers! Starting with the September 1 kick-off of Food Literacy Month, the public and our food literacy kids vote for their top five vegetables, which are then assigned to 5 local, high-profile chefs. They then create a tasty, veggie-forward bite featuring their assigned veggie. The winner is decided by food literacy students at our event held at a local elementary school. Community members also attend and cheer the students on. It's a corn-tastic!
Follow us on Facebook and Instagram for chef announcements, the veggie semi-finalists, and upcoming Food Literacy Month happenings!
Related Links