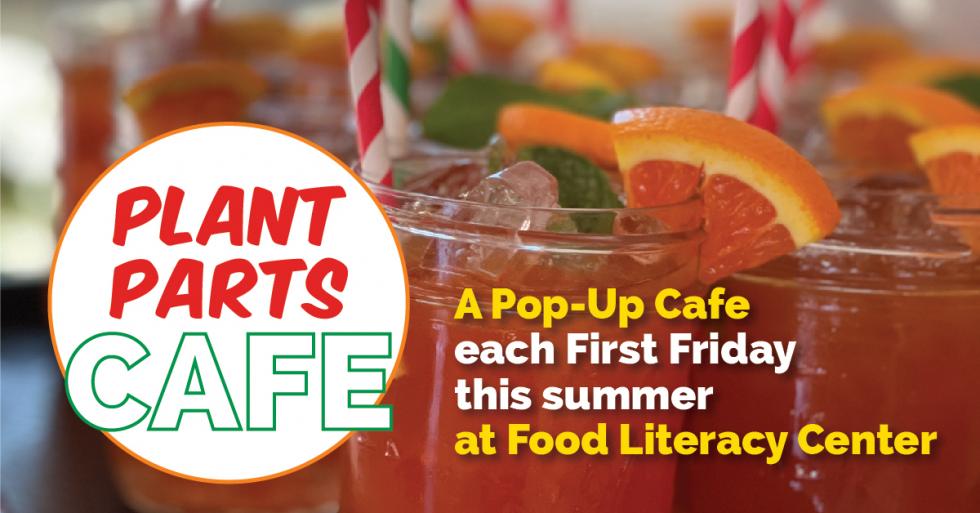 Plant Parts (Pop-Up) Cafe
Each first Friday of the month this summer!
Introducing Plant Parts Pop-Up Cafe!
Each First Friday, Food Literacy Center is hosting Plant Parts Cafe, a pop up restaurant, serving fresh, seasonal veggie-forward snacks, sandwiches, soup, salad, and mocktails.
Each month, we'll feature unique seasonal plates alongside fan-favorites like Red Beet Hummus & Roasted Veggie Sandwich and our gorgeous and delicious Sunbutter & Seasonal Fruit Sandwich.
Skip the dinner dishes and join us for a fresh, healthy, and delicious veggie-forward meal that your whole family will love.
WHEN: 4:30 PM — 7:00 PM
Friday, June 2 | Friday, July 7 | Friday, August 4
Fun on the Farm
While you're here, you can also wander our future farm space, play Cornhole or other games, or enjoy other activities with your kids. You can also show your support for food literacy education by shopping our curated selection of proprietary veggie-forward spices, limited edition swag, and other goodies .
Special Guests: Miridae
Joining us for June is Miridae Mobile Nursery a customized box truck that transforms into a curbside native plant shop. offering wide range of beautiful and ecologically beneficial plants available for purchase during June's First Friday event! And if you're new to native plants or gardening, their knowledgeable team members are eager to answer your questions!
All of the profits from Mobile Nursery sales support their science education nonprofit, Miridae Living Labs.
Please note:
No dogs allowed
Children must be supervised by adults at all times
No outside food or beverage allowed.
Related Links